A collection of useful tidbits to make GTmetrix a little more convenient and/or useful.
---
Download a CSV file of your complete report history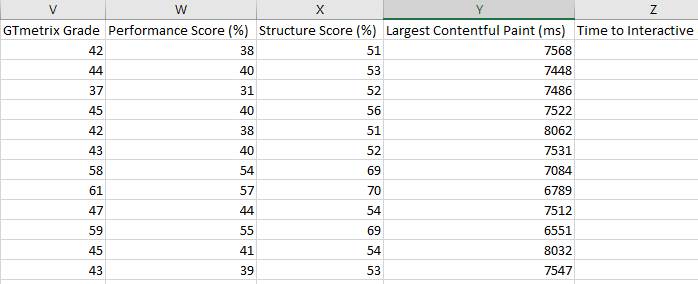 Just visit the History tab and click on "Download History" on the right hand sidebar.

GTmetrix will download the entire report history of that page. Note that if you have a large amount of historical reports, your download will take a while to generate.
Regardless of the date of the report you're viewing, downloading the history.csv will always give you the entire up-to-date performance history of the page.
You can also add "/history.csv" to the end of any GTmetrix report URL and directly download the file.

Data provided in the CSV includes:
Date
YSlow Grade (%)
PageSpeed Grade (%)
Onload Time (s)
Total Size (bytes)
Total Requests
TTFB (s)
HTML Size (bytes)
Redirect duration (ms)
Connection duration (ms)
Backend duration (ms)
DOM interactive (ms)
DOM content loaded (ms)
DOM content loaded duration (ms)
Onload (ms)
Onload duration (ms)
Fully loaded (ms)
First paint (ms)
RUM Speed Index
First contentful paint (ms)
Are you using our history CSV in an interesting way?
Let us know! We have users integrating their history CSV file with Excel graphing, internal tracking tools, Google Drive linking and more.

---
Test in different countries, browsers and speeds
Get access to more test regions, browser options and connection speeds!
Sign up for a Basic GTmetrix account and see how your site performs in all scenarios – It's FREE!
---
Log in to your GTmetrix account and see how your site performs in all scenarios.
---