GTmetrix Test Server Locations
Test your page from one of our many global test locations. There are currently 111 test servers operating in 22 global locations.
Logged in users can analyze their pages using one of our 7 free test locations. GTmetrix PRO plans have access to 15 additional premium test locations.
You can select a location in the "Analysis Options" tab on the Dashboard or change your default location in your Account page.
If you are concerned about GTmetrix requests affecting your analytics or being stopped by your firewall, you can use the IP addresses supplied to allow or disallow our servers.
Get all our Test Servers Locations in XML here.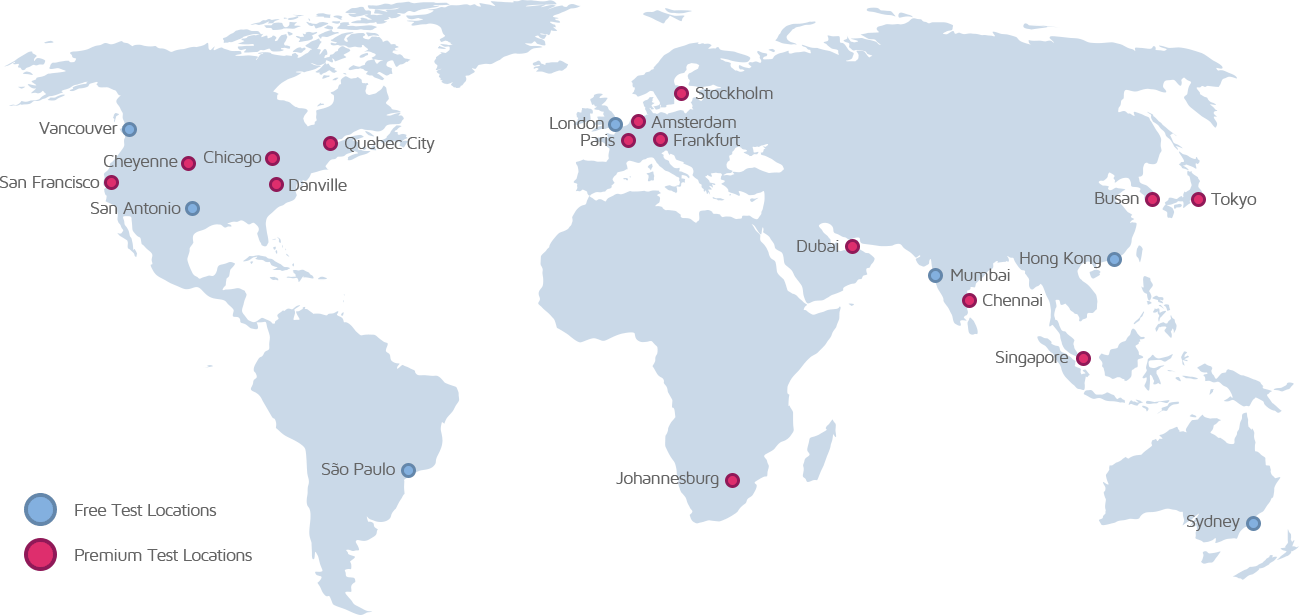 UK
(23 Servers)
London, UK
Active
13.87.64.140
eu-london1.jobs.gtmetrix.com
UK
London
London, UK 2
Active
20.26.224.131
eu-london2.jobs.gtmetrix.com
UK
London
London, UK 3
Active
20.108.17.87
eu-london3.jobs.gtmetrix.com
UK
London
London, UK 4
Active
20.117.73.245
eu-london4.jobs.gtmetrix.com
UK
London
London, UK 5
Active
20.90.255.148
eu-london5.jobs.gtmetrix.com
UK
London
London, UK 6
Active
20.117.69.107
eu-london6.jobs.gtmetrix.com
UK
London
London, UK 7
Active
13.87.64.168
eu-london7.jobs.gtmetrix.com
UK
London
London, UK 8
Active
20.90.189.200
eu-london8.jobs.gtmetrix.com
UK
London
London, UK 9
Active
20.108.50.109
eu-london9.jobs.gtmetrix.com
UK
London
London, UK 10
Active
20.90.103.62
eu-london10.jobs.gtmetrix.com
UK
London
London, UK 11
Active
51.142.82.146
eu-london11.jobs.gtmetrix.com
UK
London
London, UK 12
Active
20.90.97.209
eu-london12.jobs.gtmetrix.com
UK
London
London, UK 13
Active
13.87.66.254
eu-london13.jobs.gtmetrix.com
UK
London
London, UK 14
Active
51.142.250.140
eu-london14.jobs.gtmetrix.com
UK
London
London, UK 15
Active
20.90.79.252
eu-london15.jobs.gtmetrix.com
UK
London
London, UK 16
Active
20.254.32.214
eu-london16.jobs.gtmetrix.com
UK
London
London, UK 17
Active
51.142.243.236
eu-london17.jobs.gtmetrix.com
UK
London
London, UK 18
Active
51.142.233.172
eu-london18.jobs.gtmetrix.com
UK
London
London, UK 19
Active
20.117.159.236
eu-london19.jobs.gtmetrix.com
UK
London
London, UK 20
Active
20.254.51.234
eu-london20.jobs.gtmetrix.com
UK
London
London, UK 21
Active
20.0.201.158
eu-london21.jobs.gtmetrix.com
UK
London
London, UK 22
Active
20.0.231.202
eu-london22.jobs.gtmetrix.com
UK
London
London, UK 23
Active
20.68.215.105
eu-london23.jobs.gtmetrix.com
UK
London
Show all UK Server Details
USA
(23 Servers)
San Antonio, TX, USA
Active
104.214.72.101
na-sanantonio1.jobs.gtmetrix.com
USA
San Antonio
San Antonio, TX, USA 2
Active
13.66.7.11
na-sanantonio2.jobs.gtmetrix.com
USA
San Antonio
San Antonio, TX, USA 3
Active
13.85.24.83
na-sanantonio3.jobs.gtmetrix.com
USA
San Antonio
San Antonio, TX, USA 4
Active
13.85.24.90
na-sanantonio4.jobs.gtmetrix.com
USA
San Antonio
San Antonio, TX, USA 5
Active
13.85.82.26
na-sanantonio5.jobs.gtmetrix.com
USA
San Antonio
San Antonio, TX, USA 6
Active
40.74.242.253
na-sanantonio6.jobs.gtmetrix.com
USA
San Antonio
San Antonio, TX, USA 7
Active
40.74.243.13
na-sanantonio7.jobs.gtmetrix.com
USA
San Antonio
San Antonio, TX, USA 8
Active
40.74.243.176
na-sanantonio8.jobs.gtmetrix.com
USA
San Antonio
San Antonio, TX, USA 9
Active
104.214.48.247
na-sanantonio9.jobs.gtmetrix.com
USA
San Antonio
San Antonio, TX, USA 10
Active
157.55.189.189
na-sanantonio10.jobs.gtmetrix.com
USA
San Antonio
San Antonio, TX, USA 11
Active
104.214.110.135
na-sanantonio11.jobs.gtmetrix.com
USA
San Antonio
San Antonio, TX, USA 12
Active
70.37.83.240
na-sanantonio12.jobs.gtmetrix.com
USA
San Antonio
San Antonio, TX, USA 13
Active
65.52.36.250
na-sanantonio13.jobs.gtmetrix.com
USA
San Antonio
Cheyenne, WY, USA
Active
PRO Only
13.78.216.56
na-cheyenne1.jobs.gtmetrix.com
USA
Cheyenne
Cheyenne, WY, USA 2
Active
PRO Only
20.69.59.217
na-cheyenne2.jobs.gtmetrix.com
USA
Cheyenne
Chicago, IL, USA
Active
PRO Only
52.162.212.163
na-chicago1.jobs.gtmetrix.com
USA
Chicago
Chicago, IL, USA 2
Active
PRO Only
20.236.119.219
na-chicago2.jobs.gtmetrix.com
USA
Chicago
Chicago, IL, USA 3
Active
PRO Only
40.116.84.177
na-chicago3.jobs.gtmetrix.com
USA
Chicago
Danville, VA, USA
Active
PRO Only
23.96.34.105
na-danville1.jobs.gtmetrix.com
USA
Danville
Danville, VA, USA 2
Active
PRO Only
20.169.252.209
na-danville2.jobs.gtmetrix.com
USA
Danville
San Francisco, CA, USA
Active
PRO Only
65.52.113.236
na-sanfrancisco1.jobs.gtmetrix.com
USA
San Francisco
San Francisco, CA, USA 2
Active
PRO Only
13.91.230.174
na-sanfrancisco2.jobs.gtmetrix.com
USA
San Francisco
San Francisco, CA, USA 3
Active
PRO Only
20.59.114.107
na-sanfrancisco3.jobs.gtmetrix.com
USA
San Francisco
Show all USA Server Details
Canada
(22 Servers)
Vancouver, Canada
Active
24.109.190.162
cap1.jobs.gtmetrix.com
Canada
Vancouver
Vancouver, Canada 2
Active
172.255.48.130
na-vancouver1.jobs.gtmetrix.com
Canada
Vancouver
Vancouver, Canada 3
Active
172.255.48.131
na-vancouver2.jobs.gtmetrix.com
Canada
Vancouver
Vancouver, Canada 4
Active
172.255.48.132
na-vancouver3.jobs.gtmetrix.com
Canada
Vancouver
Vancouver, Canada 5
Active
172.255.48.133
na-vancouver4.jobs.gtmetrix.com
Canada
Vancouver
Vancouver, Canada 6
Active
172.255.48.134
na-vancouver5.jobs.gtmetrix.com
Canada
Vancouver
Vancouver, Canada 7
Active
172.255.48.135
na-vancouver6.jobs.gtmetrix.com
Canada
Vancouver
Vancouver, Canada 8
Active
172.255.48.136
na-vancouver7.jobs.gtmetrix.com
Canada
Vancouver
Vancouver, Canada 9
Active
172.255.48.137
na-vancouver8.jobs.gtmetrix.com
Canada
Vancouver
Vancouver, Canada 10
Active
172.255.48.138
na-vancouver9.jobs.gtmetrix.com
Canada
Vancouver
Vancouver, Canada 11
Active
172.255.48.139
na-vancouver10.jobs.gtmetrix.com
Canada
Vancouver
Vancouver, Canada 12
Active
172.255.48.140
na-vancouver11.jobs.gtmetrix.com
Canada
Vancouver
Vancouver, Canada 13
Active
172.255.48.141
na-vancouver12.jobs.gtmetrix.com
Canada
Vancouver
Vancouver, Canada 14
Active
172.255.48.142
na-vancouver13.jobs.gtmetrix.com
Canada
Vancouver
Vancouver, Canada 15
Active
172.255.48.143
na-vancouver14.jobs.gtmetrix.com
Canada
Vancouver
Vancouver, Canada 16
Active
172.255.48.144
na-vancouver15.jobs.gtmetrix.com
Canada
Vancouver
Vancouver, Canada 17
Active
172.255.48.145
na-vancouver16.jobs.gtmetrix.com
Canada
Vancouver
Vancouver, Canada 18
Active
172.255.48.146
na-vancouver17.jobs.gtmetrix.com
Canada
Vancouver
Vancouver, Canada 19
Active
172.255.48.147
na-vancouver18.jobs.gtmetrix.com
Canada
Vancouver
Quebec City, Canada
Active
PRO Only
52.229.122.240
na-quebec1.jobs.gtmetrix.com
Canada
Quebec City
Quebec City, Canada 2
Active
PRO Only
20.220.97.59
na-quebec2.jobs.gtmetrix.com
Canada
Quebec City
Quebec City, Canada 3
Active
PRO Only
52.229.103.1
na-quebec3.jobs.gtmetrix.com
Canada
Quebec City
Show all Canada Server Details
Brazil
(7 Servers)
São Paulo, Brazil
Active
104.41.2.19
sa-saopaulo3.jobs.gtmetrix.com
Brazil
São Paulo
São Paulo, Brazil 2
Active
191.235.98.164
sa-saopaulo1.jobs.gtmetrix.com
Brazil
São Paulo
São Paulo, Brazil 3
Active
191.235.99.221
sa-saopaulo2.jobs.gtmetrix.com
Brazil
São Paulo
São Paulo, Brazil 4
Active
191.232.194.51
sa-saopaulo4.jobs.gtmetrix.com
Brazil
São Paulo
São Paulo, Brazil 5
Active
4.228.104.165
sa-saopaulo5.jobs.gtmetrix.com
Brazil
São Paulo
São Paulo, Brazil 6
Active
20.197.233.19
sa-saopaulo6.jobs.gtmetrix.com
Brazil
São Paulo
São Paulo, Brazil 7
Active
4.201.50.230
sa-saopaulo7.jobs.gtmetrix.com
Brazil
São Paulo
Show all Brazil Server Details
Germany
(6 Servers)
Frankfurt, Germany
Active
PRO Only
20.52.36.49
eu-frankfurt1.jobs.gtmetrix.com
Germany
Frankfurt
Frankfurt, Germany 2
Active
PRO Only
20.52.146.77
eu-frankfurt2.jobs.gtmetrix.com
Germany
Frankfurt
Frankfurt, Germany 3
Active
PRO Only
20.113.37.60
eu-frankfurt3.jobs.gtmetrix.com
Germany
Frankfurt
Frankfurt, Germany 4
Active
PRO Only
20.79.253.26
eu-frankfurt4.jobs.gtmetrix.com
Germany
Frankfurt
Frankfurt, Germany 5
Active
PRO Only
20.218.106.141
eu-frankfurt5.jobs.gtmetrix.com
Germany
Frankfurt
Frankfurt, Germany 6
Active
PRO Only
20.170.6.233
eu-frankfurt6.jobs.gtmetrix.com
Germany
Frankfurt
Show all Germany Server Details
India
(5 Servers)
Mumbai, India
Active
104.211.140.252
ap-mumbai1.jobs.gtmetrix.com
India
Mumbai
Mumbai, India 2
Active
104.211.165.53
ap-mumbai2.jobs.gtmetrix.com
India
Mumbai
Mumbai, India 3
Active
104.211.153.212
ap-mumbai3.jobs.gtmetrix.com
India
Mumbai
Chennai, India
Active
PRO Only
52.172.14.87
ap-chennai1.jobs.gtmetrix.com
India
Chennai
Chennai, India 2
Active
PRO Only
20.235.15.187
ap-chennai2.jobs.gtmetrix.com
India
Chennai
Show all India Server Details
Australia
(4 Servers)
Sydney, Australia
Active
52.237.235.185
ap-sydney1.jobs.gtmetrix.com
Australia
Sydney
Sydney, Australia 2
Active
52.237.250.73
ap-sydney2.jobs.gtmetrix.com
Australia
Sydney
Sydney, Australia 3
Active
52.237.236.145
ap-sydney3.jobs.gtmetrix.com
Australia
Sydney
Sydney, Australia 4
Active
4.198.138.159
ap-sydney4.jobs.gtmetrix.com
Australia
Sydney
France
(3 Servers)
Paris, France
Active
PRO Only
20.188.63.151
eu-paris1.jobs.gtmetrix.com
France
Paris
Paris, France 2
Active
PRO Only
20.19.213.143
eu-paris2.jobs.gtmetrix.com
France
Paris
Paris, France 3
Active
PRO Only
20.111.61.119
eu-paris3.jobs.gtmetrix.com
France
Paris
Singapore
(3 Servers)
Singapore
Active
PRO Only
13.76.97.224
ap-singapore1.jobs.gtmetrix.com
Singapore
Singapore 2
Active
PRO Only
20.212.226.32
ap-singapore2.jobs.gtmetrix.com
Singapore
Singapore 3
Active
PRO Only
4.193.36.84
ap-singapore3.jobs.gtmetrix.com
Singapore
Sweden
(3 Servers)
Stockholm, Sweden
Active
PRO Only
20.240.42.3
eu-gavle1.jobs.gtmetrix.com
Sweden
Stockholm
Stockholm, Sweden 2
Active
PRO Only
20.91.184.175
eu-gavle2.jobs.gtmetrix.com
Sweden
Stockholm
Stockholm, Sweden 3
Active
PRO Only
51.12.87.240
eu-gavle3.jobs.gtmetrix.com
Sweden
Stockholm
UAE
(3 Servers)
Dubai, UAE
Active
PRO Only
40.123.218.94
me-dubai1.jobs.gtmetrix.com
UAE
Dubai
Dubai, UAE 2
Active
PRO Only
20.203.120.122
me-dubai2.jobs.gtmetrix.com
UAE
Dubai
Dubai, UAE 3
Active
PRO Only
20.203.120.58
me-dubai3.jobs.gtmetrix.com
UAE
Dubai
China
(2 Servers)
Hong Kong, China
Active
40.83.89.214
ap-hongkong1.jobs.gtmetrix.com
China
Hong Kong
Hong Kong, China 2
Active
52.175.57.81
ap-hongkong2.jobs.gtmetrix.com
China
Hong Kong
Japan
(2 Servers)
Tokyo, Japan
Active
PRO Only
52.246.165.153
ap-tokyo1.jobs.gtmetrix.com
Japan
Tokyo
Tokyo, Japan 2
Active
PRO Only
40.115.194.159
ap-tokyo2.jobs.gtmetrix.com
Japan
Tokyo
Netherlands
(2 Servers)
Amsterdam, Netherlands
Active
PRO Only
51.144.102.233
eu-amsterdam1.jobs.gtmetrix.com
Netherlands
Amsterdam
Amsterdam, Netherlands 2
Active
PRO Only
52.174.248.217
eu-amsterdam2.jobs.gtmetrix.com
Netherlands
Amsterdam
South Korea
(2 Servers)
Busan, South Korea
Active
PRO Only
52.231.199.170
ap-busan1.jobs.gtmetrix.com
South Korea
Busan
Busan, South Korea 2
Active
PRO Only
52.231.159.173
ap-busan2.jobs.gtmetrix.com
South Korea
Busan
South Africa
(1 Server)
Johannesburg, South Africa
Active
PRO Only
102.133.169.66
af-johannesburg1.jobs.gtmetrix.com
South Africa
Johannesburg