Features
GTmetrix has a suite of features and options to make optimizing your website clear and easy.
If you need more monitoring, API credits, or exclusive features, consider GTmetrix PRO.
Get a summary of key performance indicators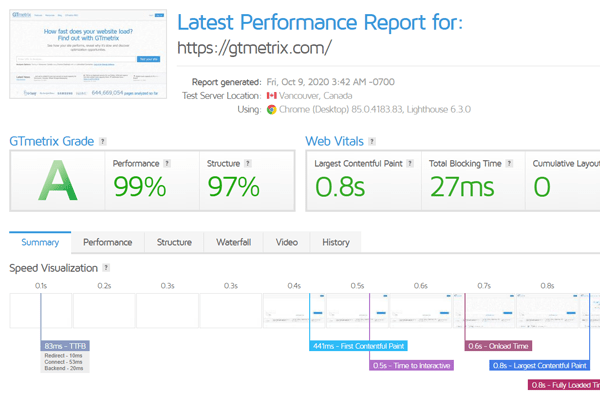 GTmetrix's Report Page neatly summarizes your page performance based off key indicators of page load speed.
Analyze your page with Google Lighthouse for actionable insights for performance optimizations
Get performance milestones like Largest Contentful Paint, Total Blocking Time and Cumulative Layout Shift
Focus on the performance metrics that matter the most to your visitor's experience
Track performance with monitoring, graphs, alerts and Waterfall Charts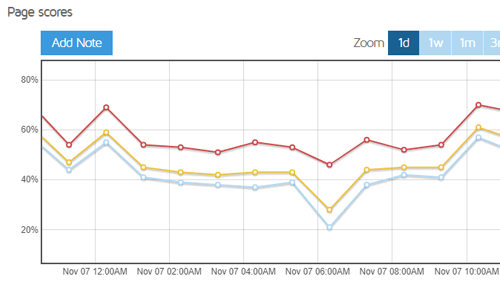 Keep track of page performance with scheduled monitoring and visualize it with interactive graphs. Set up alerts to notify you when your page performs poorly. Waterfall Charts give you an in-depth look at your page load.
Monitor pages and run a test daily, weekly or monthly to ensure optimal performance
Visualize performance with 4 graphs available: Web Vitals, Page Timings, Page Size & Request Counts and Performance/Structure scores
Zoom, pan and set a date range to find specific performance history
Annotate areas of interest on your graph and give your data context
Set alerts with numerous conditions based on Web Vitals, Page Timings, Total Page size, etc
Waterfall Charts give you a request-by-request look at your page load
Test your page from multiple locations
Analyze the page load of your site from 82 servers in 22 different locations around the world: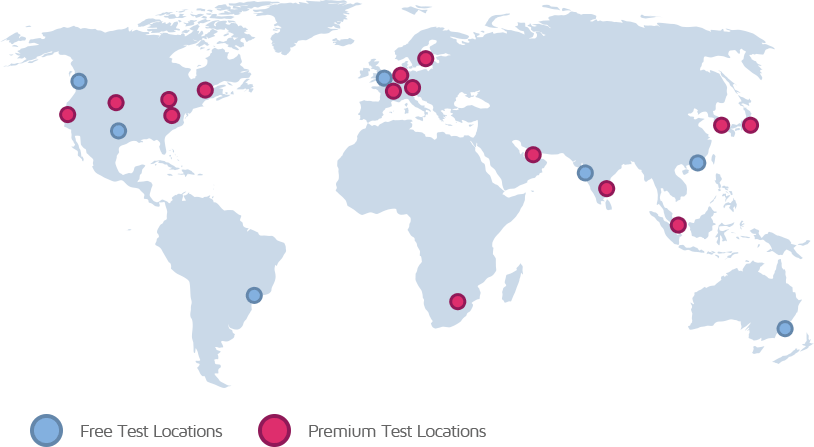 Vancouver, Canada
Quebec City, Canada
San Antonio, TX, USA
San Francisco, CA, USA
Chicago, IL, USA
Danville, VA, USA
Cheyenne, WY, USA
London, UK
Paris, France
Frankfurt, Germany
Amsterdam, Netherlands
Stockholm, Sweden
Hong Kong, China
Singapore
Tokyo, Japan
Busan, South Korea
Mumbai, India
Chennai, India
Dubai, UAE
São Paulo, Brazil
Johannesburg, South Africa
Sydney, Australia
More on our locations
Analyze your page on mobile devices
GTmetrix allows you to test your page on a real Android device or Simulated Device options
Get real-world mobile performance data on our hardware device (Available in our Vancouver Region only; monitoring & API access not available)
Simulate performance on over 30 different mobile devices and variants.
Optimize your site for mobile users and ensure a fast page load time on all devices
Note: Mobile testing only available to GTmetrix PRO users.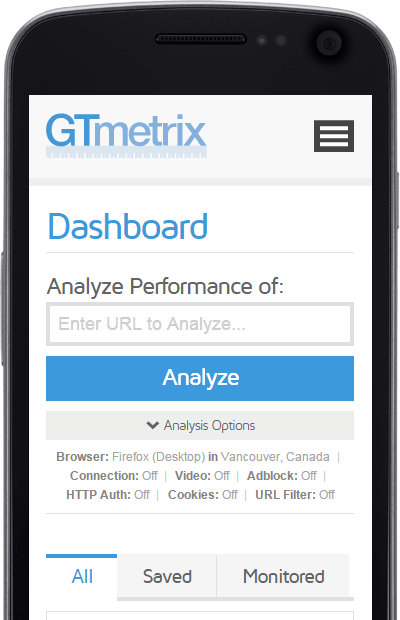 Advanced analysis options for even more insights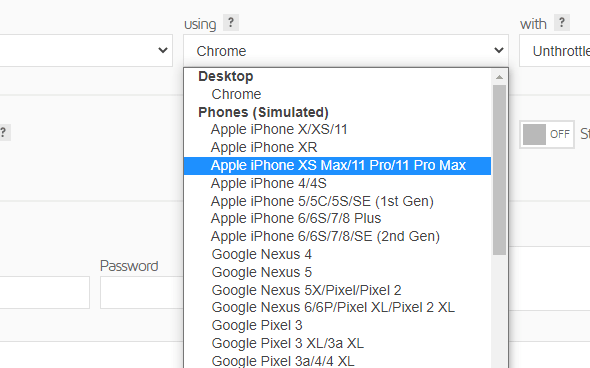 PRO users get access to our Advanced Analysis Options:
Change the Screen Resolution to test your page's responsive layouts
Edit the User Agent string or add a custom DNS for staging/development environments
Create Presets to quickly test with your frequently used options
Playback page loads with videos
You can record your page loads and pinpoint exactly where bottlenecks or stoppages occur!
Slow your playback up to 4 times the original speed to determine loading issues
Jump to major page load milestones such as DNS resolved, First byte and DOM loaded
Combine with Monitored Alerts and save a video of the page load that triggered the alert (only available to GTmetrix PRO users)
View your page load in filmstrip view and get a frame-by-frame look at your page loading in real time
Plus many more options and features!
Additional features give you details and data beyond an initial glance.
Adblock Plus
Disable ads on your page and see the performance difference in page load. Great for troubleshooting.
Connection Throttling
Load your page on various connection speeds to simulate Dial-Up, 2G/3G, DSL or Cable - See how your page performs for a wide range of users.
HTTP Authentication
Allow GTmetrix to analyze pages behind HTTP Authentication by passing through credentials.
Cookie Sessions
Scan pages that require being logged in by inputting cookie session data.
E-mail Digests
Keep track of all your monitored pages with a weekly digest. Get overviews of all important data in a convenient format.
White-Labeled PDF
Brand GTmetrix reports with your own company logo and offer insights to your clientele. Only available with GTmetrix PRO.
URL Filtering
Block or only allow specific resources that load on your page.
API Functionality
Integrate performance testing into your development environment or application. Get more API credits with GTmetrix PRO.
Get more out of your reports!
Sign up for a GTmetrix account and get everything you need to make your site faster.
Need to use GTmetrix in a professional capacity? Check out GTmetrix PRO!