This article may contain outdated material
The features outlined in this article are still available. However, the content pertains to the legacy version of GTmetrix.
GTmetrix now offers video playback of page loads! You can see how your page loads and pinpoint exactly where bottlenecks or stoppages occur.

Slow pages up to 4 times their original speed to determine issues, and jump to major page load milestones such as DNS Resolved, First Byte and DOM Loaded (only with Chrome, Safari or IE9+).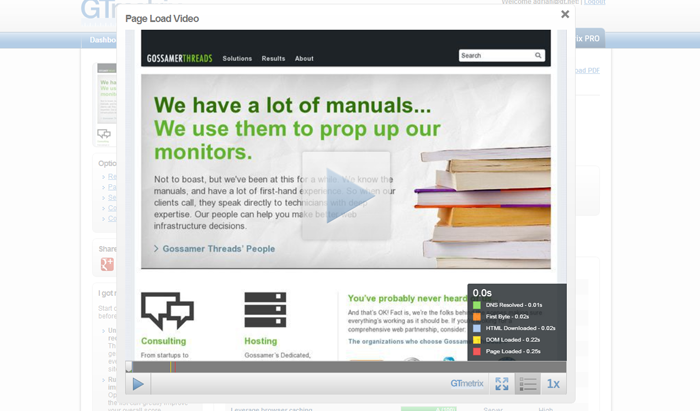 Other uses for your page load videos:
View the difference latency has on your page loads (eg. loading from our different test locations) – this includes ads
View the different ads or other regional based content
View why the page was slow (when used with the monitored alerts option – note that this is a GTmetrix PRO only option)
When used with our monitored alerts feature, GTmetrix will save a video of the page load that triggered the alert for viewing (only available to GTmetrix PRO users).
API users can also add video playback to their feature list. It costs 5 API credits to generate a video recording of a page load.
Video playback is only available to registered GTmetrix users. Log in to your account and give it a try today!