GTmetrix Performance Blog
News, updates and guides on GTmetrix and general web performance
Category: Changes
Here you can find details on the latest major updates and features for GTmetrix.
Want more updates? Follow us on Twitter, Facebook or Google+ for news, tips, and status updates on GTmetrix.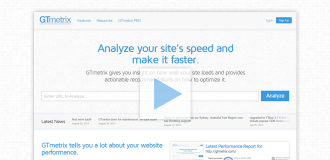 GTmetrix now offers video playback of page loads! You can see how your page loads and pinpoint exactly where bottlenecks or stoppages occur.