We've added two new features in this release, along with various fixes and updates – read on to learn more!
---
GTmetrix Report – Audit Tags and Metric Filters
GTmetrix Reports now display metric filters as well as audit tags for some of the Structure audits.



These tags and filters can be used to show you audits relevant to the following metrics:
Alternatively, you can use the All filter to display all the audits.
You'll see these tags and filters wherever audits are displayed i.e., on the Summary and Structure Tabs.

---
Summary Tab
The Summary Tab, by default, shows you the Top 5 issues that are likely to have the highest impact on your page's performance.
This is also the case when the "All" filter is in use.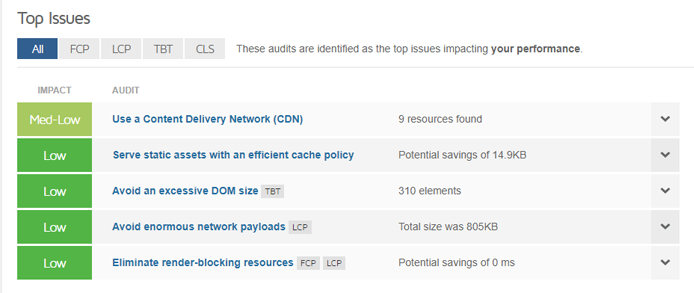 When you select one of the other filters (i.e., FCP, LCP, etc.), the Summary Tab now displays the top audits relevant to that particular metric.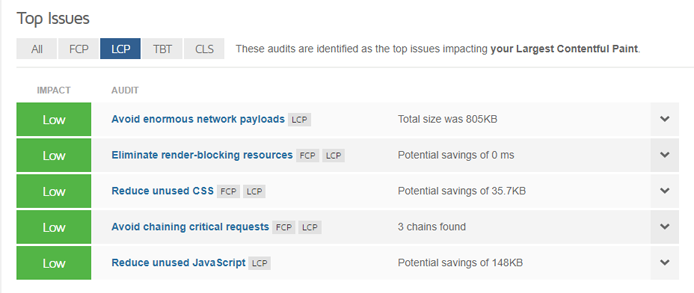 Use these tags to focus on the most important metrics first.
---
Structure Tab
By default, the Structure Tab shows you all the audits for your page, ordered by which ones have the highest impact on your page's performance. Selecting one of the filters shows you all the audits relevant to that particular metric.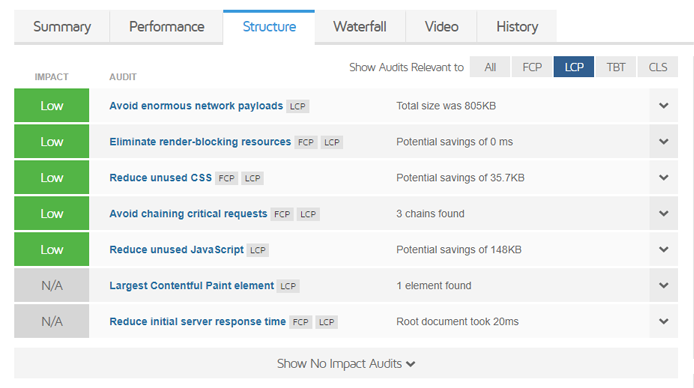 ---
Change to Default User Agent
We've made an important change to the format of the default GTmetrix User-Agent, which will now have "GTmetrix" added at the end of the User-Agent string.
This applies to both default Desktop and Simulated Device tests (doesn't apply to Chrome Android mobile tests).
If you're filtering for GTmetrix tests or monitoring based on our previous User-Agent, you will need to update your filters.
As an example, this is what the current GTmetrix User-Agent is after the change:
Mozilla/5.0

 (

X11; Linux x86_64

) 

AppleWebKit/537.36

 (

KHTML, like Gecko

) 

Chrome/98.0.4758.102 Safari/537.36

 GTmetrix
Note that the default User-Agent may change in the future (e.g., when we update browser versions), but it will always contain the word GTmetrix at the end of the string.
---
Custom User-Agent Templating Feature
We've added a templating feature to the User Agent Override field, to make it easier to modify and customize your User-Agent string.



We've written a separate blog article explaining
how the feature works
.
Note that this feature is only available to users on PRO plans.
---
Added Legacy Report Option to Dashboard Filters
We've also added the Legacy Report option to the Dashboard filters so that you can specifically filter for Legacy Reports.



---
Other Updates
Added PrestoCDN to our CDN auto-detection list.
Improved the On-Demand Test limit reached messaging to clarify when your test credits will start replenishing.
Updated "Did you Knows" to Analyze page.
Various bug fixes.
---

Let us know if you run across any bugs or issues and feel free to tell us your thoughts on Twitter (@gtmetrix) or contact us.
---
Test with different countries, speeds and options
Get access to more Test Locations, Analysis Options and Connection Speeds!
Sign up for a Basic GTmetrix account and see how your site performs in more scenarios – It's FREE!
---
Log in to your GTmetrix account and see how your site performs in all scenarios.
---