This article may contain outdated material
The analysis performed in this article references the legacy version of GTmetrix.
Editor's note: A big thank you to Cosmin and Chris at Catena Media for supporting GTmetrix and providing us with insight in your daily workings.

Catena Media has been a long time GTmetrix PRO subscriber and utilizes monitoring and alerts to generate reports and keep an eye on performance for multiple web properties.
Specializing in high-quality lead generation, Catena Media operates websites in many industries such as iGaming, Sports Betting, and Finance. We asked them what it was about GTmetrix they loved and how it helped them with their service offerings.
We asked Chris Cascun, Marketing Product Owner at Catena Media, about his experience with GTmetrix and how he and his team integrates it into their workflow.
---
Q) Why are you using GTmetrix?
A) GTmetrix is one of the critical components in our toolkit.

It's very useful for measuring landing page performance and debugging performance issues. The good thing about it is that we can adopt a proactive approach because GTmetrix alerts us as soon as an issue happens.
Q) How do you utilize GTmetrix in your day-to-day?
A) Every day, GTmetrix alerts us to issues… so our developers can act fast and resolve them.
We set up hourly monitoring on multiple Landing Pages with Alerts to highlight potential performance issues. Every day, GTmetrix alerts us to issues as it encounters them, so our developers can act fast and resolve them.

Our stakeholders are also provided with a GTmetrix dashboard so they can monitor performance trends and better understand the impact on their marketing campaigns.
Q) Describe a situation that GTmetrix helped you identify or solve a problem?
A) GTmetrix…[lead] to a positive 15% increase in speed together with better scoring on Google.
Recently we had some pages that Google scored poorly on Google's performance tools and the quality scoring provided by Google Ads.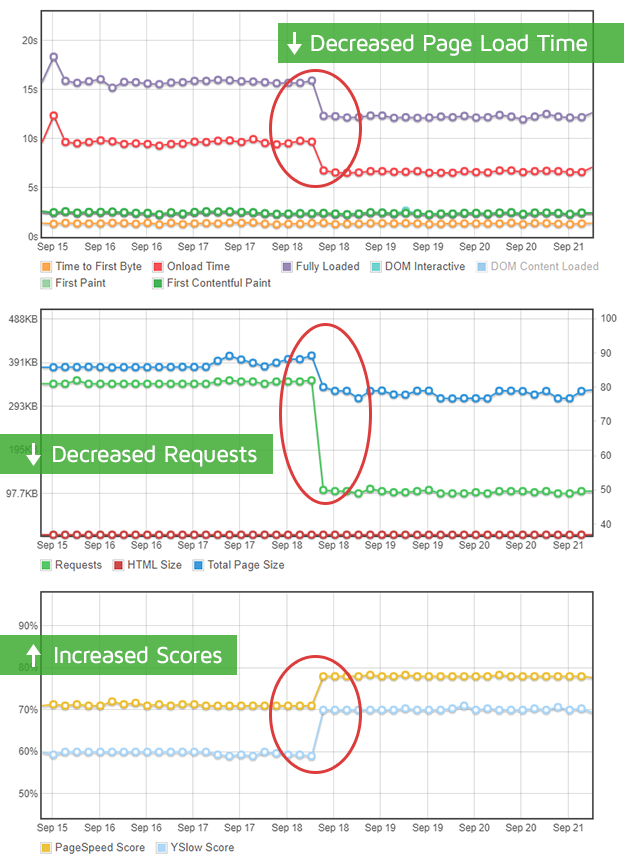 GTmetrix helped us find all possible issues such as third-party dependencies, optimizations on image sizes leading to a positive 15% increase in speed together with better scoring on Google.
We all know that Google rewards optimized pages in terms of speed and best practices.


With GTmetrix we were able to find the resources that were consuming the highest load times and our developers adopted the recommendations provided by this tool to achieve excellent results for first contentful paint.
Q) What are the few GTmetrix features that you feel are key?
A) Having out-of-the-box monitoring and alerts on specific event timings (such as TTFB, contentful paint, etc.) means that we do not have to implement automated checks ourselves. That saves us a lot of time to go live with our pages and reduces maintenance because issues are caught straight-away.


Waterfall Chart, and Timings tab are our preferred three functions because they are very easy to use and quickly highlight areas that need attention without the need to perform lengthy debugging sessions.
Q) How does GTmetrix bring value to you and your team?
GTmetrix has become part of our process when launching new pages. Most important pages are checked for any performance issues and monitored on an hourly basis.
For us a degradation in performance means a poor user experience which leads to less conversions.
---
Summary
Catena Media utilizes GTmetrix to ensure their web implementations are optimized before and after their initiatives launch.
Some results and benefits they enjoy include:
15% increase in speed of webpages, leading to better conversions

Better Quality Score for landing pages on Google Ads

Alerts to notify of underperforming pages, allowing them to be proactive

Quick assessment of performance issues with Waterfall Charts and Timings
Chris concludes his experience with the following thoughts, "We've done quite some good research before choosing a tool. GTmetrix enabled us to start monitoring pages within minutes while at the same time build long-term solutions as part of our internal processes."
---
Are you using GTmetrix in your day-to-day? We'd love to hear how we've helped you on your journey to a faster website! Contact us if you have a story to share.