We've introduced Tags to GTmetrix and expanded the functionality of the GTmetrix API – read on for changes that come with this release.
---
New GTmetrix Feature – Tags
Tags are now available in GTmetrix and are a simple way to categorize and organize your GTmetrix Reports using words or phrases relevant to you so that you can easily find them.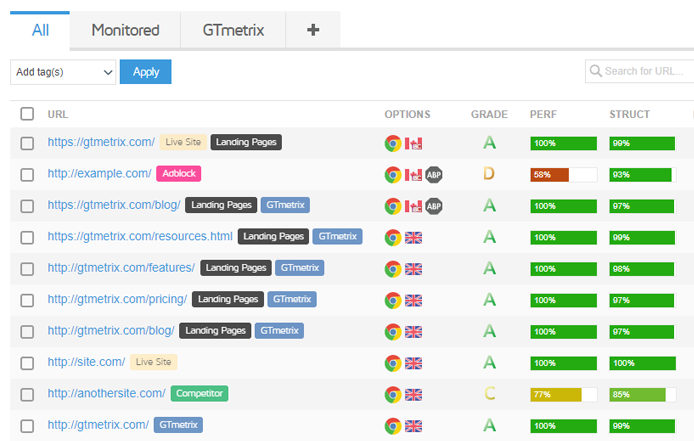 For example, you can tag a staging URL as "dev site" and the production URL as "live site" in order to easily identify which is which.
We've worked on simplifying tag usage as much as possible to make this feature easy-to-use.
Read our detailed guide on how to use tags in GTmetrix.endpoint
Log into GTmetrix and try out our new tag feature!

---
API v2.0 Updates
We've updated our GTmetrix API v2.0 to expand its functionality. Some key changes that are available in this update include:
Introduction of Page level endpoints

This is similar to the concept of a page on the GTmetrix Dashboard – a page is an aggregation of reports sharing the same URL and analysis options combination.
You can retrieve page data as well as a list of pages that you can sort and filter similar to the GTmetrix endpoint.


API functionality now extends to On-Demand and Monitored tests

Previously, most API functionality was limited to API generated tests.
Now, you can retrieve data on On-Demand Tests and Monitored jobs that were generated from your account.


More API account details available

Previously, you could see current API credit balance and next refill time.
Now, you can see additional details like API credit refill amount, account type, account access restrictions (if any), etc.
For more details on what all changes are included in this release, refer to the changelog in our API documentation.
---
Other General Updates
Various improvements and bug fixes
---
Let us know if you run across any bugs or issues and feel free to tell us your thoughts on Twitter (@gtmetrix) or contact us.
---
Test with different countries, speeds and options
Get access to more Test Locations, Analysis Options and Connection Speeds!
Sign up for a Basic GTmetrix account and see how your site performs in more scenarios – It's FREE!
---
Log in to your GTmetrix account and see how your site performs in all scenarios.
---