This article may contain outdated material
The features outlined in this article are still available. However, the content pertains to the legacy version of GTmetrix.
Now offering Broadband (slow, normal, fast) and LTE connection speeds for GTmetrix reporting, Custom Connection speeds for Developer Toolkit users, and new CDN additions.
---
Updated Connection Speeds
We've added to and updated the Connection Speeds that GTmetrix can use to load your website.

We've updated the naming for the following connections here:
Cable is now Broadband (5/1 Mbps, 30ms)
DSL is now Broadband Slow (1.5/384 Kbps, 50ms)
And we've added new speeds for more modern types connections to the Internet:
Broadband Fast (20/5 Mbps, 25ms)
LTE Mobile (15/10 Mbps, 100ms)
These connections are available for all users – so log in and give it a try!

---
Custom Connections – Have GTmetrix load your site like your visitors do
Throttling your connection when generating GTmetrix reports is a good practice to ensure your website loads well for each type of connection your users may have.
Not all Internet connections are made equal – along with our updated connection speeds, Developer Toolkit users can now create Custom Connection speeds to better reflect their visitors' experience.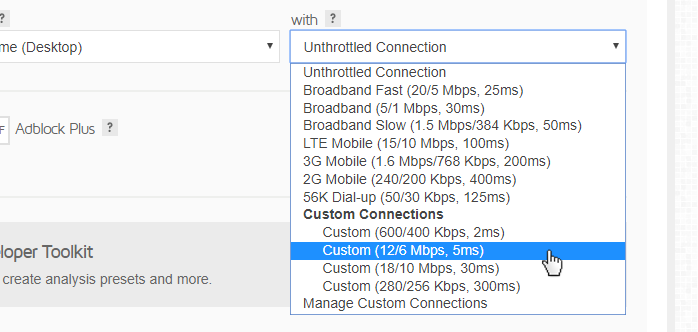 Learn more here: How to test with Custom Connection speeds.

---
Other Updates
Other minor updates to GTmetrix include:
Added more CDNs/CDN-based resources for auto-detection in YSlow CDN recommendation

Highwinds
Instagram
Google Ads
Facebook
Yahoo Analytics
OpenX
Twitter Ads
PubMatic
Optimizely
Criteo
Bing Ad Conversion Tracking

Various bug fixes
Let us know if you run across any bugs or issues and feel free to tell us your thoughts on Twitter (@gtmetrix) or contact us.