We're excited to announce new PRO plans to cater to a wider variety of users.
---
Overview
We've recently launched a new version of GTmetrix, which is now powered by Lighthouse. With this release, we've also revamped our PRO plans to appeal to a broader set of users.
Based on user survey feedback and usage analysis, our plan revamp introduces 6 new PRO plans, categorized into 2 categories, to suit the web performance needs and budgets of our users today.
In this article, we'll introduce the plan changes and explain the differences compared to the Legacy Plans, including the implications for current Legacy PRO Plan users.
---
Why did we update our plans?
GTmetrix introduced PRO plans back in 2012 to enable users to take advantage of advanced testing options, Hourly/Remote Monitoring, and more API Credits. As the number of GTmetrix users and tests grew significantly during this period, so did our hardware utilization and overhead costs.

In 2012, GTmetrix tested an average of roughly 7,300 URLs per day: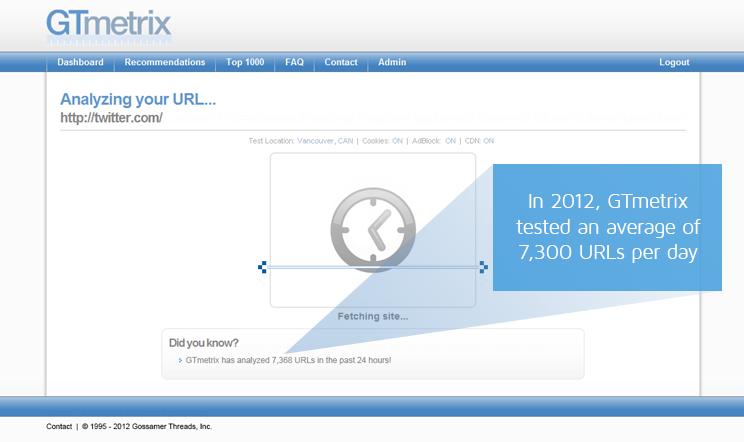 Today, GTmetrix tests, on average, over
430,000
URLs per day: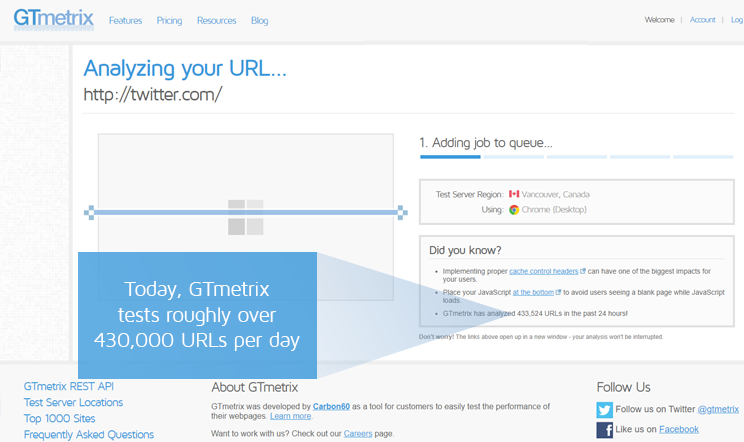 While our test numbers and feature set grew, we haven't really changed our pricing over the years. We tried to keep it simple with our Legacy Plans, which were structured to offer more value to users, as pricing was simply scaled up in accordance with volume of monitoring and API Credits.

However, this approach doesn't completely reflect the needs of our user base today as some users are heavily focused on URL monitoring while others are heavily focused on API integration.
This made us realize that there was a large gap between our plans, and they didn't always suit our users' budgets and needs.
The final reason for our plan revamp is our move to Lighthouse, which now requires greater CPU/memory/storage resources, as well as, adding more servers, further increasing our operational costs.
---
Introducing the new plans
In general, GTmetrix has altered the plans' usage limits and features in line with the changes in resource usage and our users' typical usage patterns.

Key changes include:
All reports are automatically "saved"

We wanted to simplify the whole concept of "Saved" reports, as users often didn't know the option was available, or forgot to toggle it. Thus, all report data is now automatically "saved".
To accommodate the new storage requirements, new Data Retention periods are in place, based on the plan level of your account.


Introduction of On-Demand Test limits

An On-Demand Test is a manual test run from your Dashboard or a Re-Test of a report.
We've set soft limits on the number of On-Demand Tests that can be run in a 7-day period before additional tests are rate limited.
This change was made to curb abuse and better manage capacity for our more resource-intensive Lighthouse tests.

Our plan revamp retains our Basic/Free plans and introduces 6 new PRO Plans.
---
Basic/Free plan
We're pleased to continue providing a Basic/Free plan.
You'll get access to Lighthouse reports – and can get a good feel for GTmetrix testing with our multiple Analysis Options and monitoring (1 Monitored Slot on a Daily, Weekly or Monthly frequency).
All reports will be retained for 1 month from the date of generation.
Basic plans also retain many of the features offered in the Legacy Basic Plan, including Remote Location Testing (in our 7 free global test regions), various Analysis Options, Summary-only PDF report downloads, and Alerts for monitored URLs.
---
The new PRO plans
Our new PRO plans are split into 2 categories – Individual and Business.

Starting with the global PRO features, PRO plan users (including Legacy PRO) have access to the following:

Higher queue priority depending on plan-level
Users on Individual plans will have a higher queue priority than Guest and Basic users, allowing them to have their tests start faster. Those on our Business plans will have even higher priority in our test queue.

Mobile Testing
PRO users have access to our Mobile Testing suite, which includes 40+ simulated mobile devices and variants as well as our real-Android hardware device (limited to manual tests in Vancouver, Canada only).

Global Monitoring
PRO users can monitor their page from 7 global Test Locations (or 15 additional Premium Test Locations on a new PRO plan).

Full PDF Reports
PRO users have access to Full PDF reports with expanded metric and audit details.

PRO Analysis Options
Advanced Analysis Options like changing Screen Resolutions, changing Device Pixel Ratio, overriding DNS, and defining custom User Agents will be unlocked for PRO users.

Exclusive to new PRO plan users is access to Premium Test Locations. In addition to our 7 free global test regions, 15 additional Premium Test Locations will be available for testing and monitoring for those on a new GTmetrix PRO plan.
Individual Plans
The Individual plans are suitable for users like developers and consultants who are primarily looking to optimize performance for their own websites, as well as, freelancers looking to optimize websites for their clients.
There are 3 plans in this category: Solo, Starter, and Growth.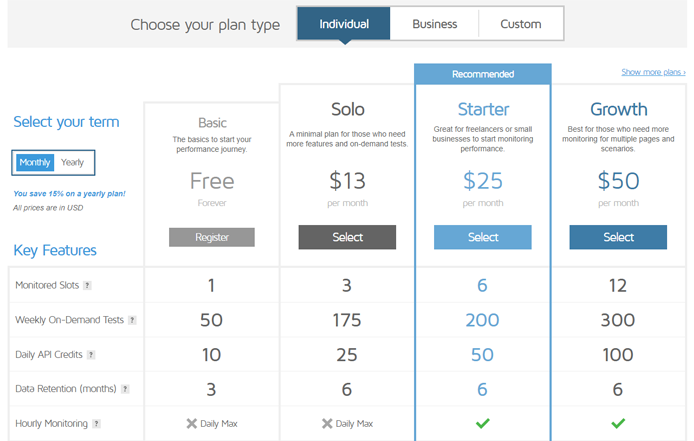 Our new entry-level plan, the Solo plan, was created for users who want access to PRO features, but don't necessarily need frequent monitoring.
Business Plans
The Business plans are suitable for web performance-oriented teams in small and medium businesses, as well as, large enterprises looking to optimize hundreds of websites.
There are 3 plans in this category: Champion, Team, and Enterprise.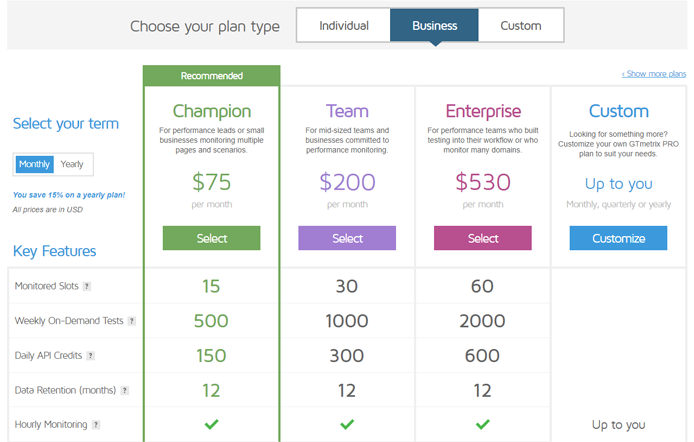 Specific to Business plans
PRO users on our Business plans receive additional benefits, including:

Highest priority in the test queue
Have your tests started faster than all other users on the GTmetrix platform.

GTmetrix Product Support
Contact a GTmetrix representative for help on GTmetrix usage, bulk URL upload requests, changing URLs, API integration support, and general web performance tips.

Enterprise plan users get a one-hour Performance Consultation per year, where we can walk you through GTmetrix Reports and offer advice.

White-labelled PDF reports
This feature gives you the ability to brand GTmetrix PDF reports with your own company logo and company description. This is a standard feature on Team and Enterprise plans, and is an add-on option for Growth and Champion plans.

Custom plans
Custom plans are also available for those who have a specific set of needs in terms of GTmetrix features.



You can create your own plan to suit your needs and workflow with our Custom plan creator tool.
Select and adjust features like:
Number of Weekly On-Demand Tests
Number of Monitored Slots
Number of Daily API Credits
Data retention period
Hourly monitoring (Yes/No)
White-labelled PDF (Yes/No)
Billing period (Monthly, Quarterly, Semi-annually, Yearly)
We also offer discounts on terms longer than a Monthly plan.
If you need something outside of our pre-set plans, check out our Custom plans.


All of our new plan details are on our Pricing page.
---
What will happen to Legacy PRO Plans?
If you're currently on a Legacy Bronze, Silver, Gold or Custom plan, don't worry! There's no obligation to immediately switch to the new plans.
All Legacy PRO Plans will be retained for current PRO users for a period of time.
We understand that this is a big change, both, in terms of the move to Lighthouse and the new PRO plan offerings; and we want to reassure you that we are here to navigate this change with you.
All Legacy PRO Plans will be retained for current PRO users for a period of time. That means there will be no change in Pricing, Monitored Slots or API Credits, and you'll have access to our new Lighthouse Reports too!

There will be some differences for all Legacy PRO Plans going forward, which include:

12 month Data Retention for all reports

As mentioned above, we now automatically save all reports across all plans based on plan tier.
Legacy PRO plans will have their reports retained for 12 months from their generation date.


Weekly On-Demand Test limits

Bronze/Silver/Gold plans will have On-Demand Test limits of 150/500/1500 respectively.
On-Demand Test limits for Custom plans will correlate with plan cost per month.


Premium Test Locations not available

Due to new operational costs with Lighthouse testing, Premium Test locations will not be available for Legacy PRO plans.
Legacy PRO plans will only have access to our 7 free global Test Locations.

While Legacy PRO Plans will remain active and supported for the time being, we do encourage you to consider switching to one of our new plans if you are a Legacy PRO plan user.
Upgrade offer for Legacy PRO users
We will be offering special discounts to Legacy PRO users who are interested in moving to a new plan.
If you're on a Legacy PRO plan and wish to upgrade to a new plan reach out to us for a special promo offer!
---
For API users
API v0.1
API v0.1 provides Legacy Report data (PageSpeed/YSlow metrics) as well as a screenshot, browser timings and HAR data.
Users who utilize our API v0.1 (i.e., PageSpeed and YSlow-based reports) won't have to worry about updating their integrations and applications. We're keeping our Legacy API v0.1 online for the foreseeable future to service those who still rely on generating GTmetrix Legacy Reports with it.
Learn more about our API v0.1 here.

API v2.0
API v2.0 provides Lighthouse data (Web Vitals) in addition to a screenshot, browser timings and HAR data.
Learn more about our API v2.0 here.
---
Summary
This plan revamp is the biggest update to GTmetrix yet and we've worked hard to ensure that we roll out this update with minimal disruption to our current users. As such, our Legacy PRO Plans will continue to be available to our current PRO users for the time being.
The new PRO plans, however, are tailored to suit a wider set of users, both, individuals and businesses; based on our understanding of typical usage patterns, feature requests, and user budgets.
While we do encourage you to consider switching to a new PRO plan and are willing to incentivize the move, we will continue to support our current PRO users and appreciate your patience and confidence in us through this transition period.
---
Upgrade to our new PRO plans today!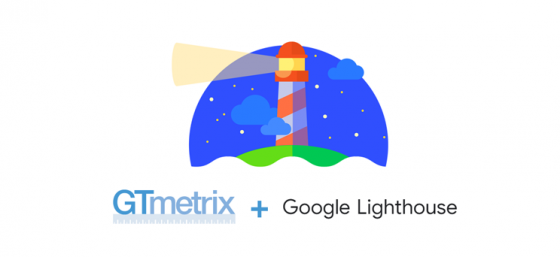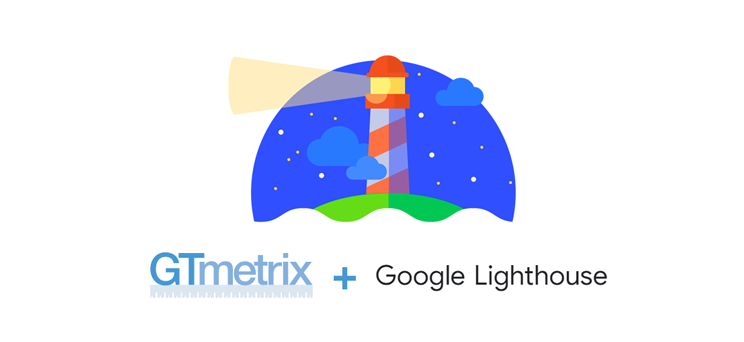 Get More On-Demand Tests, Monitored Slots, and Advanced Analysis Options, with a GTmetrix PRO plan.
Get $20 towards a new PRO plan with coupon code:
LIGHTHOUSE20
Other features include:
Priority access for tests, Mobile Testing, Hourly Monitoring (select plans only), Remote Location Monitoring (including Premium Locations), and much more!
---