We've made some changes
Some of the updates referenced in this article (including GTmetrix Report design and terminology) have undergone changes. Refer to this article for up-to-date information on our new release.
We're excited to give you a sneak preview of the major GTmetrix update coming soon!
---
Overview
GTmetrix will soon undergo a major upgrade that will add new test locations, PRO plans, and most excitingly, replace the aging PageSpeed/YSlow libraries with Google's Lighthouse metrics – today's modern standard for web performance.
With Lighthouse as the engine powering GTmetrix, we've created a new scoring system, resulting in the introduction of an all-new GTmetrix Grade, as well as, new Speed and Structure scores.
We're also redesigning the GTmetrix Report to accommodate the new Lighthouse data, add more insights, and re-affirm GTmetrix as the industry benchmark for web performance.
In this article, we'll touch on some of the upcoming changes to GTmetrix, including the key differences between the new GTmetrix Reports and the current PageSpeed/YSlow-based reports, hereafter dubbed Legacy Reports.
---
Why the change to Lighthouse?
Currently, GTmetrix scores your page based on how well it adheres to PageSpeed and YSlow's best practices for web performance. While these libraries have served us well in the past, they primarily focused on how well your page is built for speed (or structure), and not how fast it actually loads for your users.
Consequently, there were occasions when some sites achieved high PageSpeed/YSlow scores but loaded slowly. With modern websites taking advantage of client-side rendering and other strategies, Fully loaded time may not necessarily be the most relevant metric for measuring your site's performance.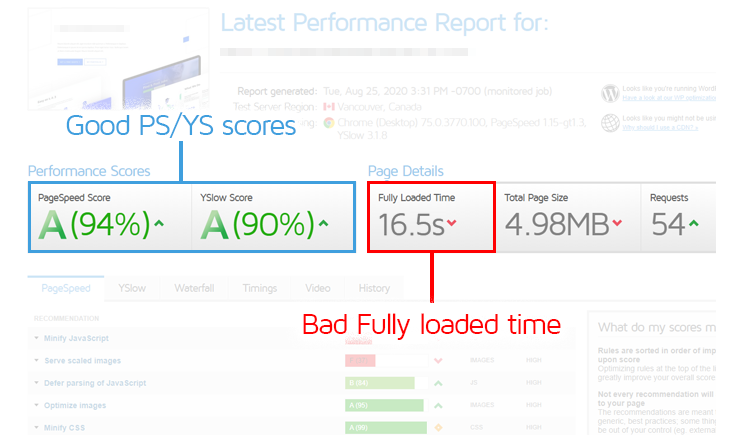 This is why we always encourage you to only consider PageSpeed and YSlow scores as half-the battle, as a host of other parameters affect how fast your site loads. However, with the scores being featured so prominently on the GTmetrix Report, they naturally became the focal point of your entire page performance.
Overall, the modern web is more complex and requires a more nuanced approach to assess site performance, especially, one that focuses more on user experience.
---
What is Lighthouse?
Lighthouse is Google's open-source tool that was launched in 2016 and represents the modern standard in web performance testing. Lighthouse analyzes webpages in various ways, with a particularly strong focus on user experience. Lighthouse metrics are geared towards key page load milestones that reflect the perception of performance.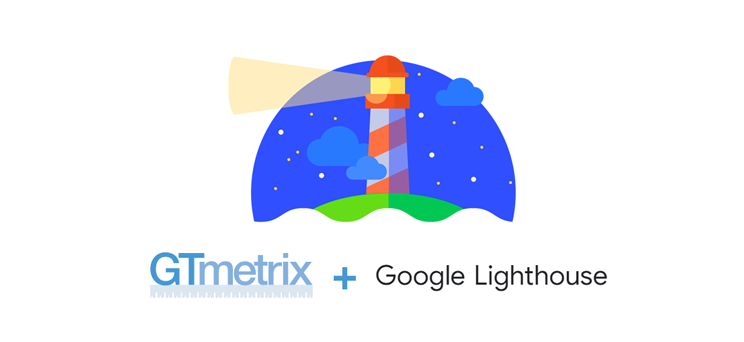 Unlike PageSpeed and YSlow, Lighthouse checks to see if a page is fast from the user's perspective. This lets us overcome the main limitation of the PageSpeed and YSlow libraries, which mostly focused on how well your site was built for performance.
With the move to Lighthouse, GTmetrix will also prominently feature the new Core Web Vitals, which will be the most important metrics to optimize in Google's view. Going forward, Google has even indicated that Core Web Vitals will likely influence their page ranking algorithm.
---
What's changing in this upcoming release?
Our move to Lighthouse will manifest itself in the form of the all-new GTmetrix Grade, which blends the Speed and Structure scores into a single metric, better reflecting the overall performance of your website.

The new Speed score represents how fast the page loads from the user's perspective and is basically comparable to the Lighthouse Performance Score. The new Structure score, on the other hand, is our own proprietary assessment of how well the page adheres to web performance best practices.

These scores, along with the Core Web Vitals will prominently be displayed at the top of the new GTmetrix Report. The new GTmetrix Report adds 3 new tabs, namely Summary, Speed, and Structure.
Here are some preview screenshots of our new reports: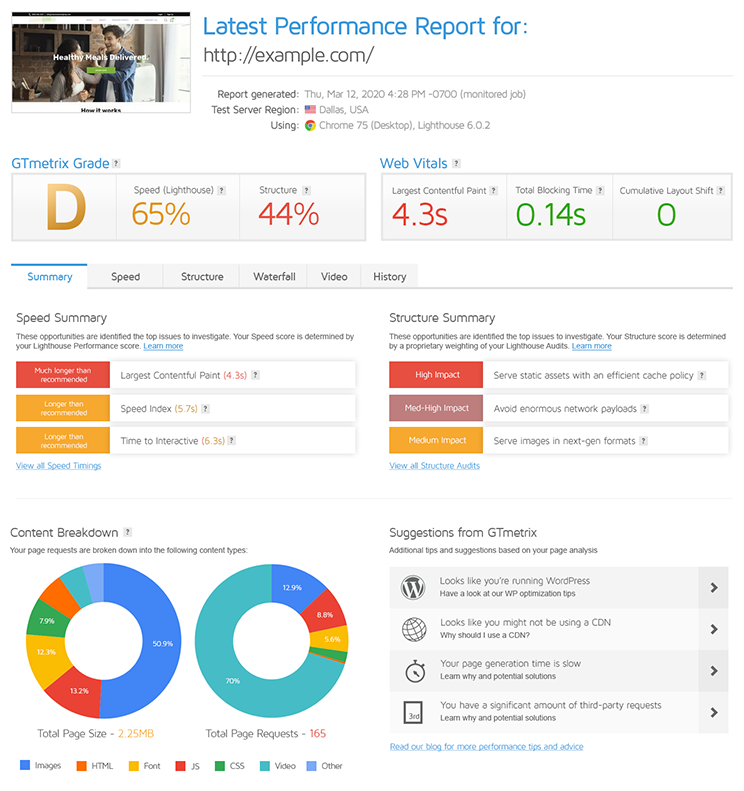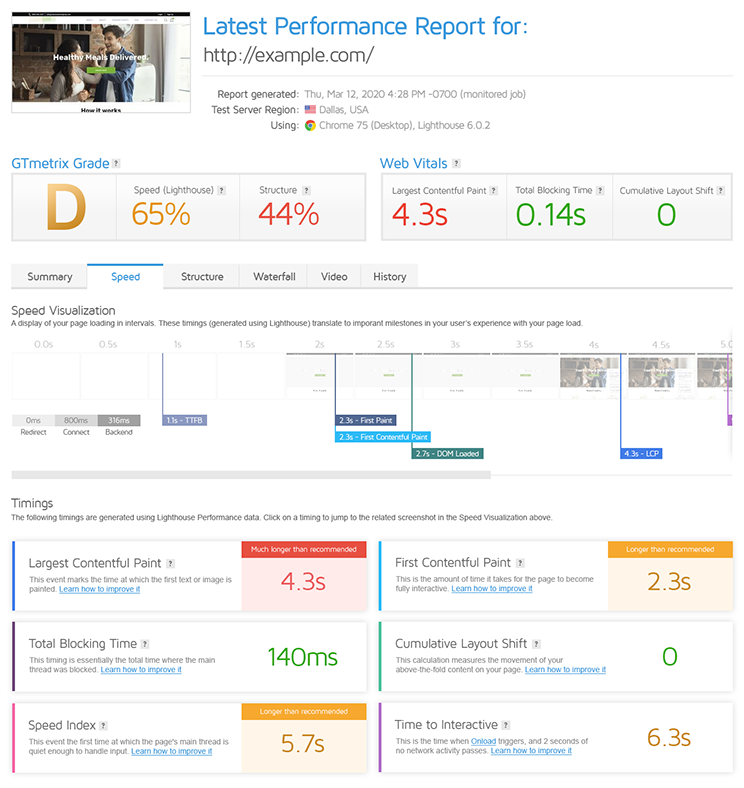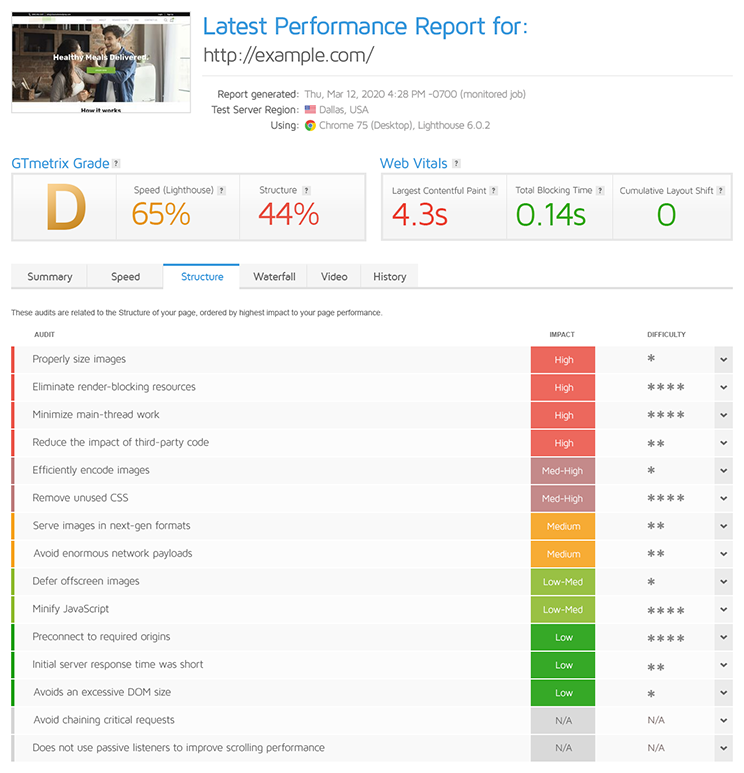 Note that we are currently in development and designs/layout may be subject to change.
New Test Regions
Along with new metrics and report changes, our upcoming release adds 15 additional Premium Test Locations around the world; only available with our new upcoming PRO plans.
Legacy Bronze, Silver, Gold and Custom plans will not have access to our new test regions.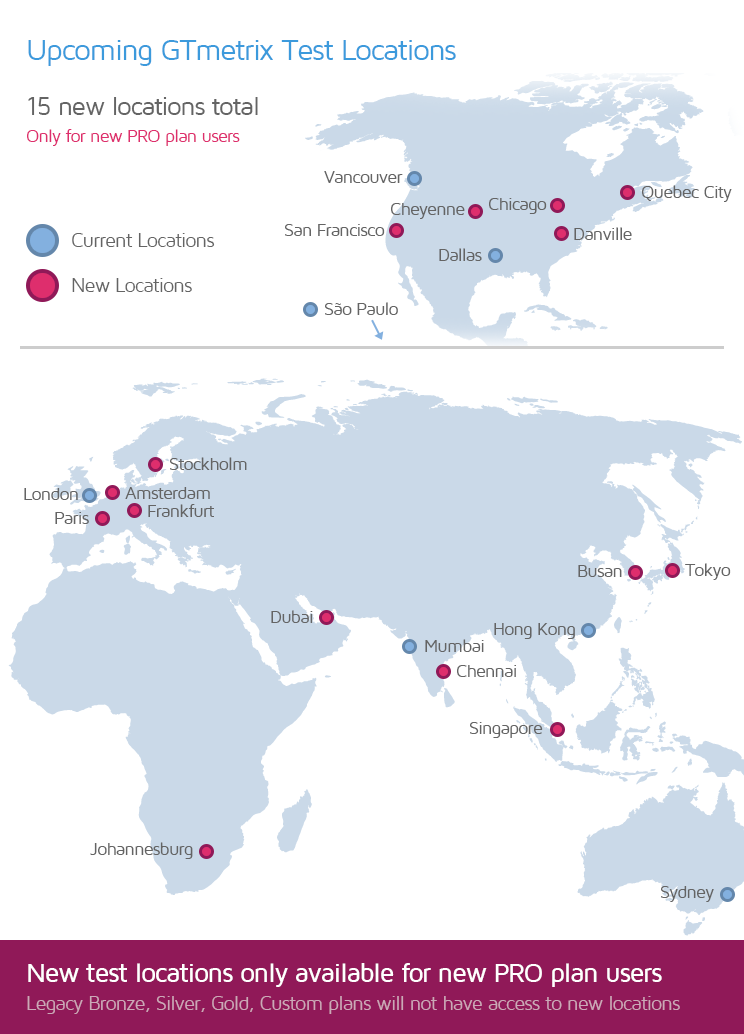 Currently, we plan to provide test regions in the following locations:
North America

San Francisco, CA, USA
Cheyenne, WY, USA
Chicago, IL, USA
Danville, VA, USA
Quebec City, Canada


Europe

Amsterdam, Netherlands
Paris, France
Frankfurt, Germany
Stockholm, Sweden


Asia-Pacific

Singapore
Tokyo, Japan
Busan, South Korea
Chennai, India


Africa

Johannesburg, South Africa


Middle East
These new Premium Locations will be available to our new upcoming PRO plans only; locations may be subject to change.
---
New PRO Plans are coming
This update to Lighthouse also comes with new changes to our PRO plan offering.
We haven't updated our PRO plans since we introduced them in 2012. Taking user feedback into account through our feedback surveys and usage analysis, we're replacing our Bronze, Silver and Gold plans with 6 new plan offerings tailored to suit all types of web performance enthusiasts.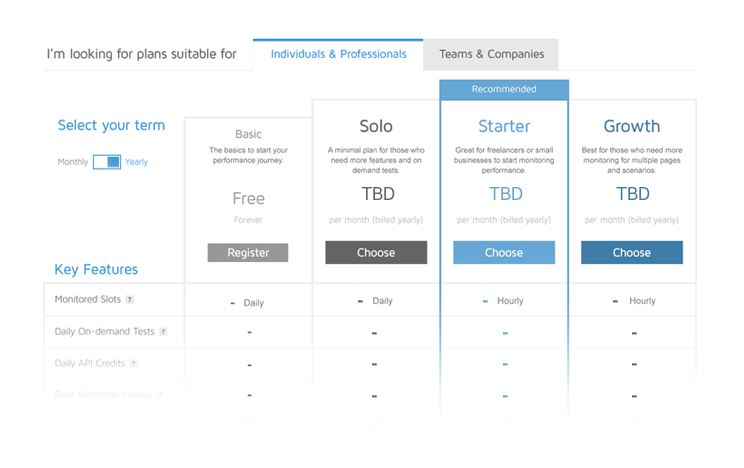 From solo freelance developers to the enterprise-level performance engineering teams, we hope that you'll find a plan that better suits your needs!
Rest assured that we will continue offering our Basic/Free plan to all users.
---
Questions
No doubt these changes are new and exciting, and you'll likely have a lot of questions. Here are some answers to a few you might have:
---
How does the new GTmetrix Report compare to the Legacy Report?
For the most part, it doesn't. While there are some similarities, the reports are fundamentally different, both, in terms of testing methodology and focus.
Aside from sharing a few timings, Waterfall chart, and some Audits being similar to the PageSpeed/YSlow recommendations, the reports should not be compared on a one-to-one basis.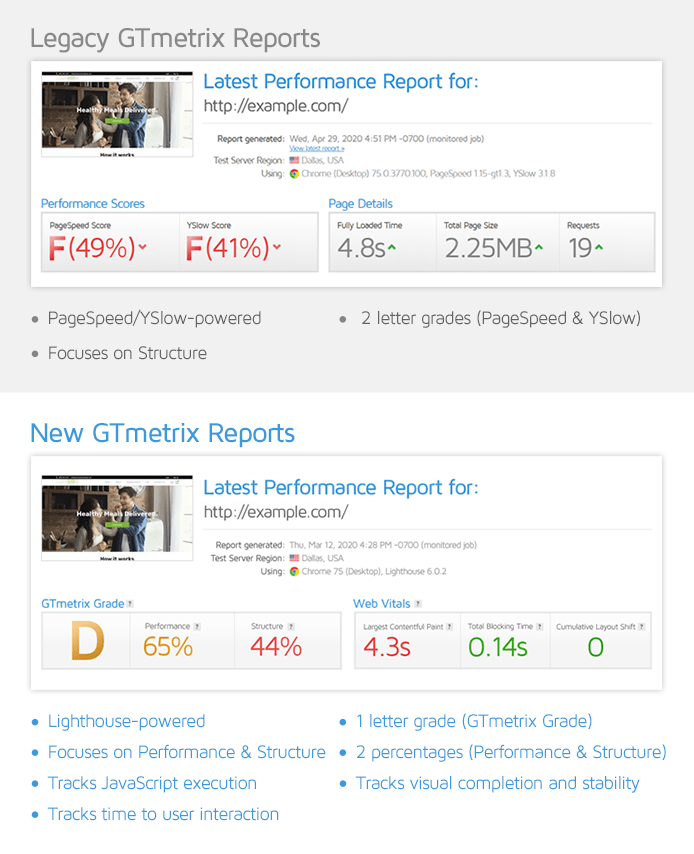 Overall, the new GTmetrix Report should be considered a new web performance benchmark for site owners going forward.
---
How does the new GTmetrix report compare to PageSpeed Insights and web.dev?
While the new GTmetrix Report is indeed powered by Lighthouse (like PageSpeed Insights and web.dev), the testing methodologies and implementation of Lighthouse used by the Google tools differ.
Your results on PageSpeed Insights/web.dev will likely differ from your new GTmetrix results.
Differences will be, especially, prominent when testing with the various Analysis Options, locations and devices on GTmetrix.
We always recommend that these tools should not be compared on a one-to-one basis. They are helpful in confirming general trends and numbers with your GTmetrix report, but should not be directly compared with it.
We'll have more details on the varying differences when we roll out the new release.
---
What happens to my old Reports?
Don't worry– your current/Legacy GTmetrix Reports (PageSpeed/YSlow) won't immediately disappear after our Lighthouse release. Depending on your plan-level, Legacy Reports generated before the new release will be kept for a designated period.
The exact details regarding how long you have access to this data will be clarified in an upcoming article.

For API Users
Note that API integration will continue to use the current version of GTmetrix, including generating Legacy Reports, even after the Lighthouse release. We will continue to maintain the current version of GTmetrix for the foreseeable future until we are ready to transition API users to the new version of GTmetrix.
Further details regarding this will be conveyed in future articles.
---
When can we expect this?
We're currently working hard to roll-out this update as soon as possible!
Expect a release later this month.
In the meantime, we encourage you to learn as much as you can about Lighthouse Audits by visiting the web.dev resources.
---
Summary
This is the biggest update to GTmetrix yet and we've worked very hard to ensure that we bring you the best product for your web performance needs.
This upcoming release adds new metrics and data that will change the way you assess your site performance, hopefully, for the better. We have big expectations from this new GTmetrix version, and we will update you once we have more details to share, including new documentation.
For now, we appreciate your patience and your confidence in us as we continue to strive to make web performance accessible for all!