Editor's note: This guest post is brought to you by Mike Andreasen, Founder at WP Bullet.
"GTmetrix helps us find performance problems before Google notices!"
---
Overview
Site performance directly impacts rankings on Google whether that's based on Core Web Vitals or improved engagement metrics that Google monitors. This case study highlights how GTmetrix's monitoring features and a plethora of optimizations led to performance improving dramatically for our customer Compare Forex Brokers.
There was a site-wide improvement in Web Vitals as shown below, including a 3x reduction in Largest Contentful Paint (LCP) timings for one of the pages (/best-forex-trading-platform/).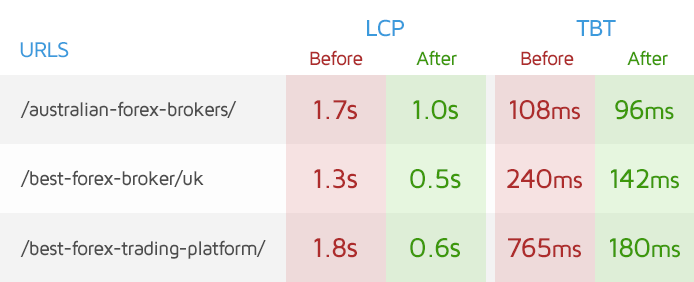 As a result of the optimizations, the site saw its Google rankings improve over the following 6 months. This led to
$150,000
worth of additional monthly Google SEO traffic, as verified by ahrefs.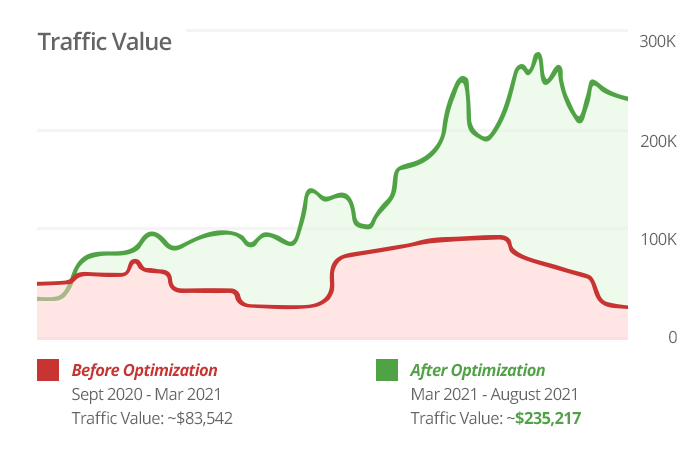 ---
Choosing The Metrics That Matter To Us
Before we delve into how GTmetrix helped tune our client's site performance, let's define the metrics that matter to us.
There are 2 primary categories of metrics that we're interested in, namely:

---
1) Performance Metrics
There are many performance metrics available to diagnose and analyze site performance. The ones we're most interested in are the Web Vitals.
We think of the Web Vitals as an all-encompassing set of metrics because they directly measure user experience, and are relevant for SEO rankings.
Google's data suggests stronger Web Vitals drive higher website traffic and conversion rates.
In addition to the Web Vitals, we also ensured that we optimized the other Lighthouse metrics, such as First Contentful Paint (FCP), Time to Interactive, and Speed Index.

---
2) SEO Metrics
Our clients are obviously looking to improve online conversion rates, so Organic Traffic and Traffic Value are the 2 primary SEO metrics we're concerned with.

A) Organic Traffic
Organic Traffic is any traffic that comes to websites from search engines, and is not paid for. Higher Organic Traffic is an indication that the site is ranking better on Google, which means all traffic directed to the website is basically earned.

B) Traffic Value
Traffic Value highlights how valuable a domain's keyword profile is. It is the estimated monthly cost of traffic from all the keywords that the URL ranks for. A higher Traffic Value indicates that the site is more valuable, and is saving more money through organic search rankings, rather than enlisting paid traffic.
Learn more about the SEO metrics.

---
How GTmetrix Helped Tune Performance
Whenever we optimize a WordPress or WooCommerce site, one of the first things our team does is make a list of the most important pages to optimize. These can be blog posts, product pages, or key landing pages.
We then run the most important pages through GTmetrix to get a baseline score for each page.
One of our main reasons for using GTmetrix instead of Google PageSpeed Insights is that GTmetrix allows you to choose your testing variables like bandwidth, device type, and specific location.
These features help us troubleshoot front-end speed, and user experience issues like layout shifts (sum of all layout shifts equals CLS) using all of the relevant variables of real-world users.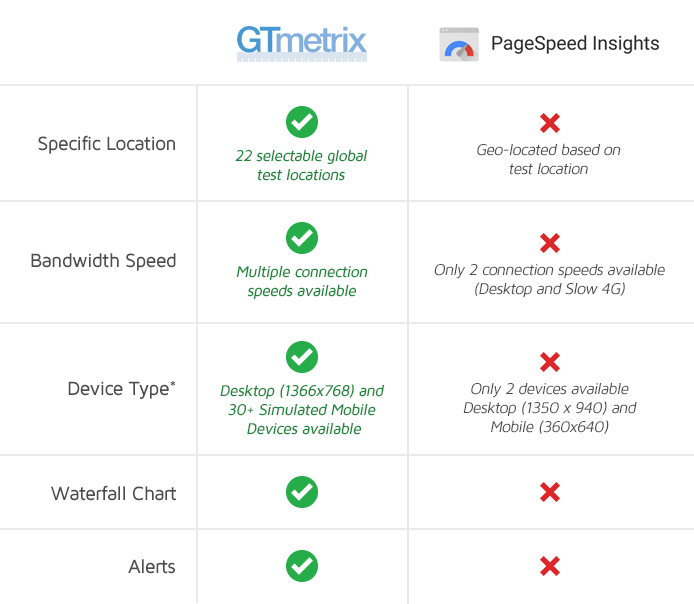 Once we do our forensic performance analysis of the Waterfall Chart and key metrics, we use GTmetrix to run scheduled tests so we can monitor the metrics Google cares about over time to make sure no updates to the site have introduced a new performance problem.
The weekly reports help reassure our clients (and us) that our optimizations were effective. If a metric has gone above a certain threshold, we can get an alert so we can be proactive for our clients – GTmetrix helps us find performance problems before Google notices!

---
GTmetrix in Action
As mentioned above, we set up monitoring and alerts for the most important pages to ensure updates to the site have not introduced any new performance issues.
Moreover, it's important to establish a performance benchmark over time, in order to catch performance issues that may otherwise be missed during manual tests and/or issues that may be cyclical in nature (i.e., only occurring at certain times of the day).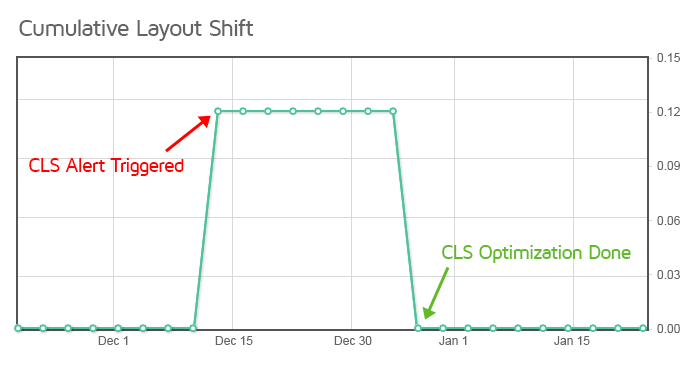 For example, we got an alert for the
/best-forex-broker/uk/
page that the CLS value was above 0. In this case, the CLS ended up being much higher than expected at 0.12 so we started debugging the issue immediately.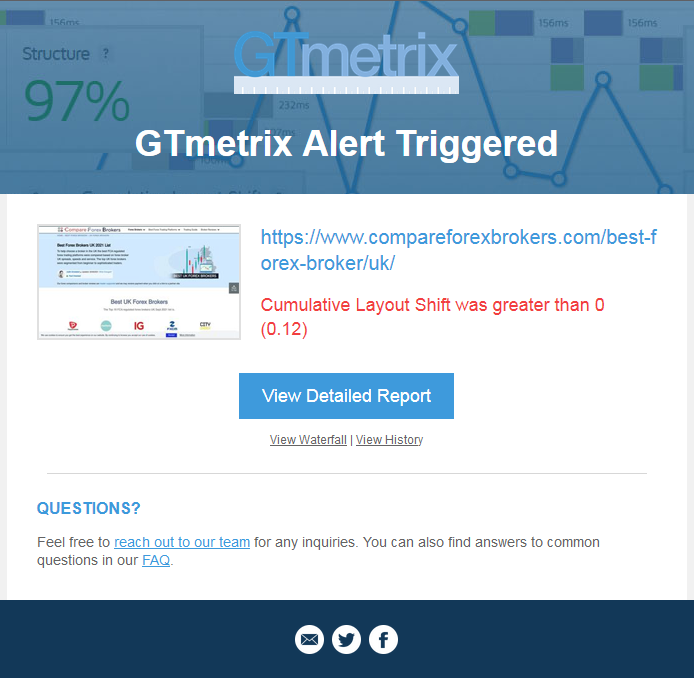 After identifying the cause and fixing it, the next GTmetrix monitored report confirmed that the CLS value went back to 0 where it belongs.
In general, the GTmetrix Reports revealed several performance issues, including:
Following a round of optimizations in March 2021, we can see that the Performance Scores improved with a significant drop in major timings.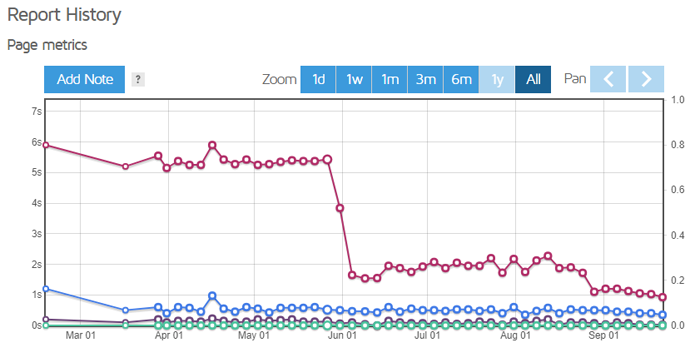 We can also see that another round of optimizations completed in June 2021 to cater to other GTmetrix recommendations helped reduce the TBT as well as the Fully Loaded Time by a significant margin.
---
Optimization Results
Let's show you the actual results of our optimizations. For this analysis, we're going to focus on three key Compare Forex Broker pages:
URL A – /australian-forex-brokers/
URL B – /best-forex-trading-platform/
URL C – /best-forex-broker/uk/
Optimizing these 3 pages brought us some great results. Here's a brief summary of how much each page improved:

---
1) URL A – 55% Reduction in LCP
URL A originally had a GTmetrix Grade of 'B' with a high Largest Contentful Paint (LCP) timing of 1.7 seconds.
LCP is a Core Web Vital and is directly related to conversion rates, which makes it a critical metric to improve for both SEO and the user experience.
The GTmetrix Grade for this page improved to an 'A', with the LCP going from 1.7 seconds to 759 ms while TBT reduced from 107ms to 89ms.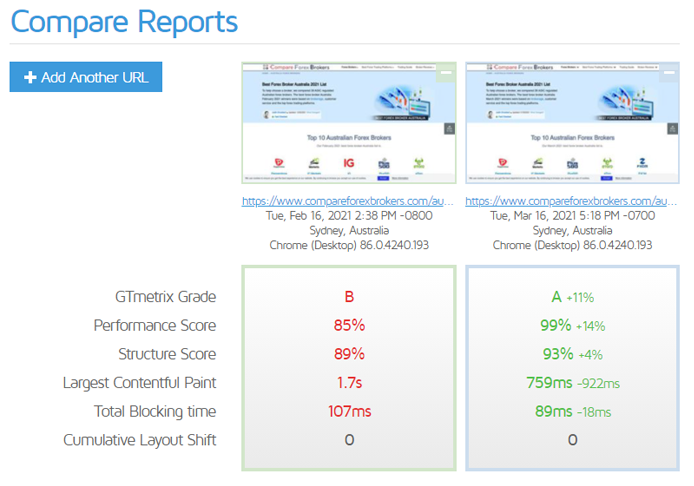 ---
2) URL B – 58% Reduction in LCP and 93% Reduction in TBT
URL B initially achieved a GTmetrix Grade of 'C' and an LCP timing of 1.4 seconds. The Total Blocking Time (TBT) however, was a very high 765ms; this means users were prevented from interacting with the page for almost a second.
Following our optimizations, this page improved to a GTmetrix Grade of 'A'. LCP reduced from 1.4 seconds to 579ms – almost 3 times faster!
TBT saw the biggest improvement – down from 765ms to only 51ms, so users could start enjoying the content much faster.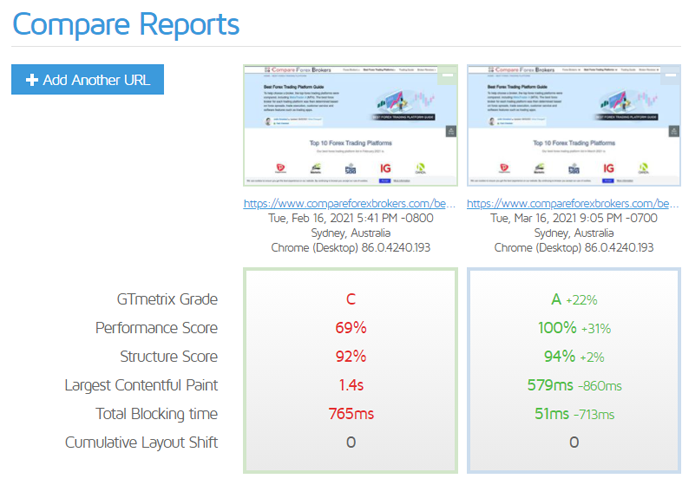 When users are happy and engaging with your site, it naturally increases conversion and page views, and keeps Google's search algorithm happy.
---
3) URL C – 60% Reduction in LCP and 65% Reduction in TBT
URL C was already well-optimized with a GTmetrix Grade of 'A' and an LCP of 1.2 seconds. However, the Total Blocking Time was 241ms, leaving room for improvement.
After optimizations were done, this page retained its GTmetrix Grade of 'A' and LCP improved from 1.2 seconds to just 519ms. TBT was also a lightning fast 83ms instead of 241ms – a 3x improvement.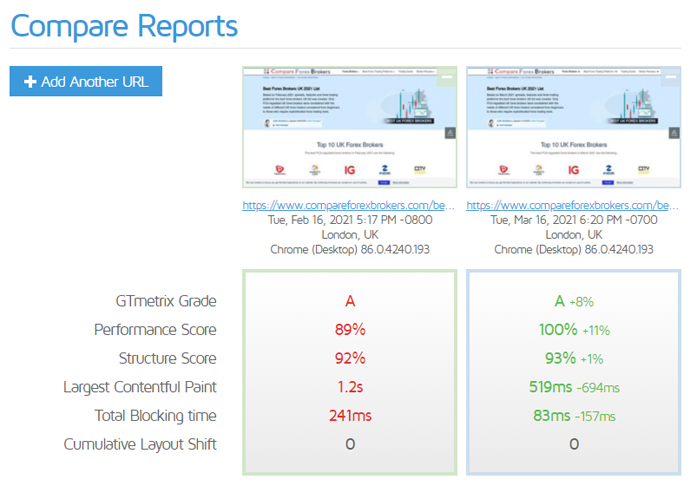 ---
Google Organic Traffic Boosts After Optimization Results
If you are questioning the Return-On-Investment (ROI) of performance optimization in terms of Organic Traffic Value, prepare yourself for some pretty amazing stats and graphs.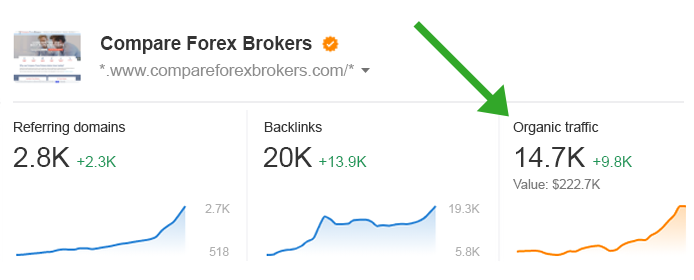 The estimated value of the Organic Traffic going to the Compareforex site tripled!
Before speed optimizations for Google Core Web Vitals, the Traffic Value was $83,542. Organic Traffic was less than 5,000 users per month.
After the in-depth and ongoing performance optimizations by WP Bullet, Organic Traffic has more than tripled from less than 5,000 users per month to 15,000 visitors per month!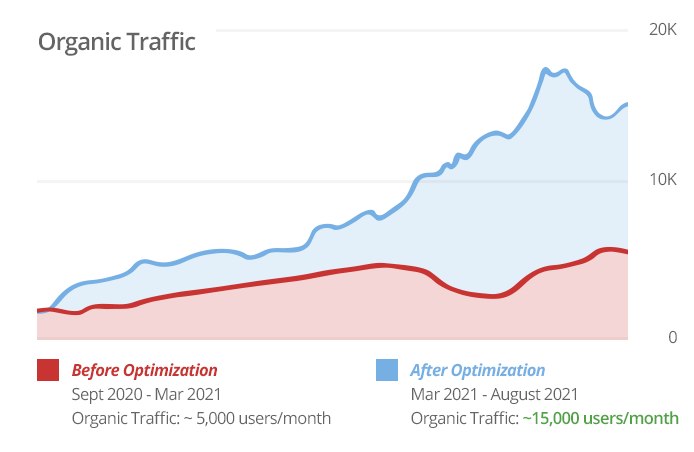 Like Organic Traffic, the Traffic Value
went up 3x from $83,542 to over $250,000 per month
. That's some incredible ROI.
---
Summary
Optimizing websites for performance is essential for any online business, as evidenced by the ROI we've shown in this article. Just to summarize, we saw:
Significant improvement in Web Vitals across the site.
Organic traffic tripling from less than 5,000 users/month to over 15,000 users/month.
Traffic Value increasing threefold from $83,542/month to over $250,000/month.
GTmetrix is a critical tool for website developers and business owners alike as it can identify performance issues and bottlenecks before they start to impact your operations.
Sign up for a GTmetrix account and give it a try to see how it can help improve your business operations.