Editor's note: A big thank you to Tanmaya and Saurabh at Finserv MARKETS for supporting GTmetrix and providing us with insight in your daily workings.
As a long time GTmetrix PRO subscriber, Finserv MARKETS' many teams utilize monitoring and alerts to keep an eye on performance across multiple webpages and devices.

Finserv MARKETS is one of the largest fintech companies in India with over 20+ products and 70,000+ SKUs specializing in lending, insurance, and wealth management.
As a trusted user of GTmetrix, we asked them what it was about GTmetrix that they loved and how it helps the many teams within their organization with their service offerings.
We asked Saurabh Meena, Campaign Manager about his experience with GTmetrix and how his organization integrates it into their workflow.
---
Q) What are your general thoughts on GTmetrix?
A) GTmetrix is a great tool to analyze the technical aspects of a webpage (i.e., media, styling, scripts, etc.), and what impact various changes have on the page's performance.
Specifically, we like the monitoring and alerts features for effective benchmarking of not only our own pages but those of our competitors' as well.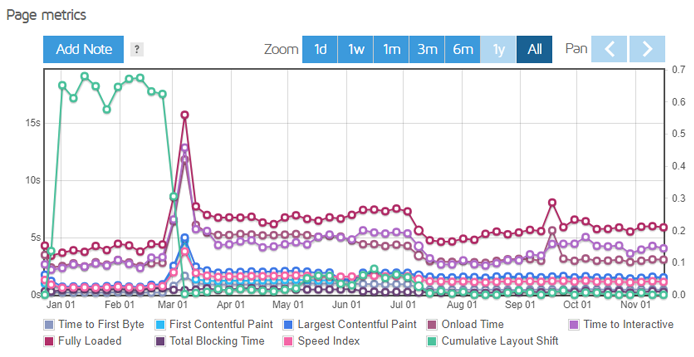 We also like the fact that technical jargon is explained in layman's terms, which helps our developers easily understand and fix various issues on our site.
---
Q) How do the different teams in your organization utilize GTmetrix in their day-to-day?
A) GTmetrix helps us identify the gaps in the user journey, which is something all the different teams in our organization are concerned about.
We monitor a variety of pages from the Mumbai, India and London, UK locations and track the Web Vitals, Performance Score, and Structure Score to make sure each page on the user journey is performing optimally.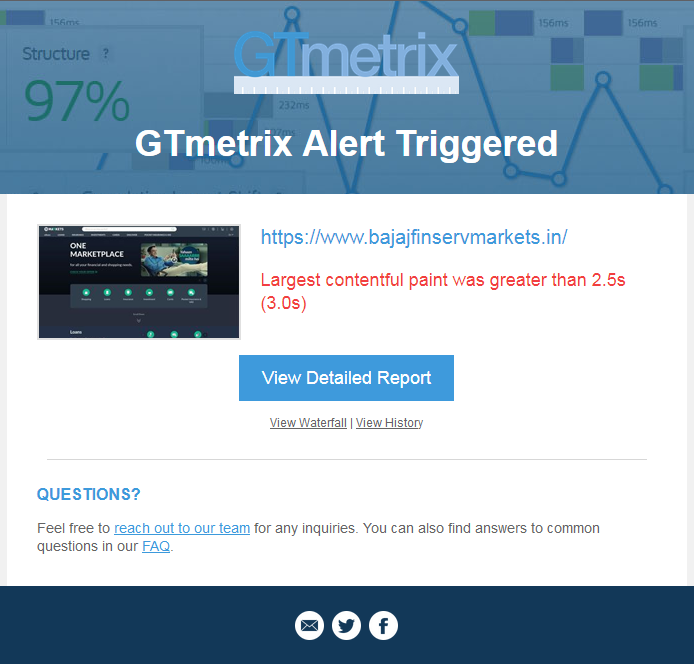 Each page is reviewed periodically to identify and remove redundant scripts which are not useful, and we use the
GTmetrix audits
to improve the page even further.
Moreover, each team has specific goals – For example, the business team uses GTmetrix to map the correlation between page performance and key business metrics (e.g., traffic to lead ratio, bottom funnel conversions, etc.).
The technology team, on the other hand, uses the GTmetrix Waterfall Chart for technical performance audits (e.g., identifying what scripts are causing lag or bottlenecks).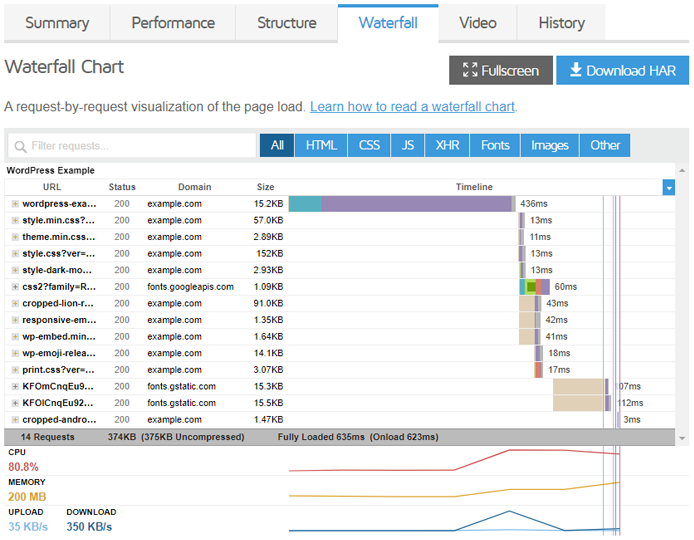 ---
Q) Can you describe a situation where GTmetrix helped you identify or solve a problem?
A) GTmetrix alerted us to performance issues on our site a few months ago.
Top Issues on the GTmetrix Report listed problems causing Largest Contentful Paint (LCP) timing to be a slow 3.3 seconds, while Total Blocking Time (TBT) was also 3.3 seconds, which was very high. These issues were specifically impacting our traffic to lead and some other ratios.
…[we discovered] there were [leftover] third-party tracking scripts.
We used the information from the GTmetrix Report to conduct a website audit and discovered there were third-party tracking scripts leftover from previous marketing campaigns.
As we were no longer running those campaigns, they were needlessly impacting site performance – we ended up removing them entirely.
We also performed additional optimizations such as reducing unused JavaScript code, eliminating render-blocking resources, and preloading key requests (CSS/fonts).
After these optimizations were performed, the audits improved as follows: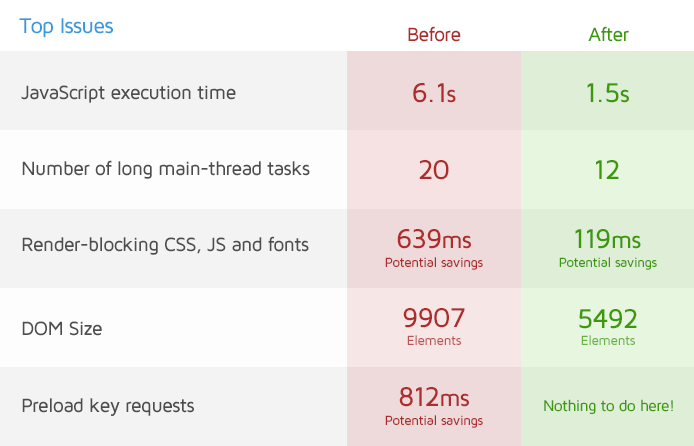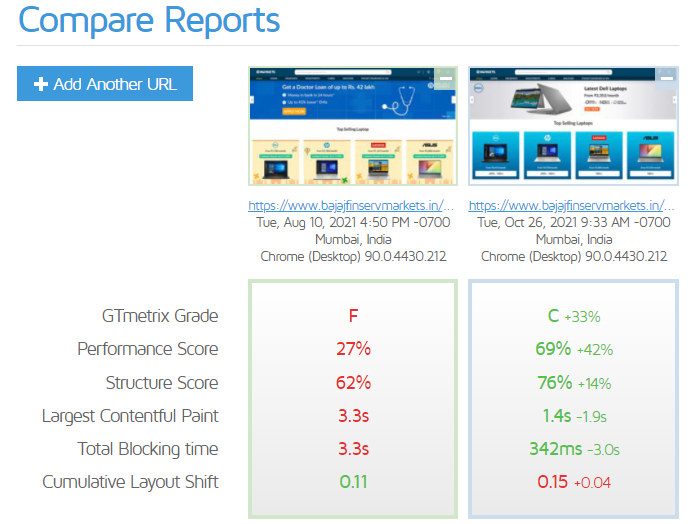 This improved our Performance Score from 27% to 69% –
a 42% increase
. Our LCP and TBT timings also reduced to 1.4 s (
57% improvement
) and 342 ms (
90% improvement
) respectively.
The performance improvements not only improved overall user experience on our site, but also helped improve our key business metrics again.
---
Q) What are the few GTmetrix features that you feel are key and why?
A) GTmetrix has many useful features but there are a few that are absolutely essential for us.
Key Timings
It's absolutely critical for us to get clear readings for important metrics such as First Contentful Paint (FCP), Largest Contentful Paint (LCP), and Time to Interactive (TTI), among others.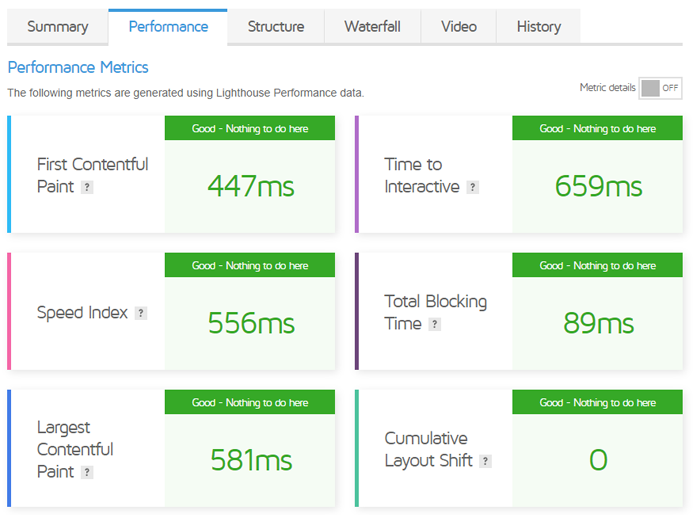 While we can see all the metrics in the Performance Tab, we also use the Speed Visualization section to get a first glance of the key metrics.
Waterfall Chart
GTmetrix's Waterfall Chart gives us a complete view of which resources (images, scripts, fonts, videos, etc.) are being loaded from the header to footer.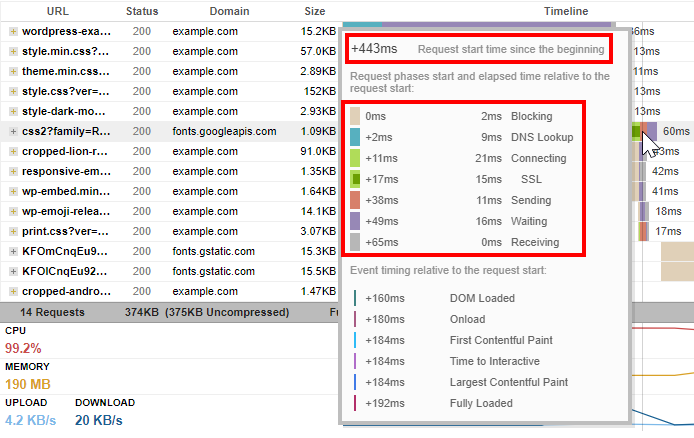 It also helps our developers identify performance gaps, and where spikes in timings are coming from.
Monitoring, Alerts & History Graphs
Monitoring and History Graphs allow us to keep track of our site performance over a period of time and also benchmark with other peers.


GTmetrix alerts us if any of the key metrics diverge from their established profile, allowing us to understand the problem quickly and giving us a better picture of site performance.
---
Q) How does GTmetrix bring value to you or your company?
A) GTmetrix plays an important role here to track our webpages through automation.
Given our large product portfolio, there are more than 20 user journeys to analyze.
As you can imagine, manually tracking and testing the 20+ journeys/platforms every now and then is a tedious task for any team, let alone multiple teams.


GTmetrix serves the same purpose…no matter which team in our organization uses it, whether it's the business, technology, or support teams…
GTmetrix plays an important role here to track our webpages through automation. It serves the same purpose no matter which team in our organization uses it, whether it's the business, technology, or support teams – all teams have visibility into the issues and can quickly come to a consensus.
In summary, GTmetrix helps us provide a smooth customer experience on our platform.
---
Q) What would you say to those not currently using GTmetrix?
A) GTmetrix is a very useful tool for a wide variety of users, regardless of how big your operations are.
It provides actionable information regarding your website's performance, and many of the technical aspects of web performance are explained in simple language. GTmetrix's documentation also gives you detailed information on what each audit means, and how to fix it.



I highly recommend everybody to try GTmetrix at least once!
---
Q) How likely would you recommend GTmetrix to somebody (on a scale of 1 – 10)? In which circumstance?
A) 9/10
I'd definitely recommend using GTmetrix for its monitoring & alert capabilities so that you can keep track of your page's performance and take proactive measures if something impacts it.
---
Summary
Finserv MARKETS uses GTmetrix to track performance across many pages and platforms, especially when new initiatives and campaigns are launched.
Some of the benefits they've enjoyed include:
42% increase in Performance Score, including up to 90% improvement in key metrics.

Automated performance analysis of over 50 webpages and alerts to notify underperforming pages, enabling swift debugging and rectification.

Substantial improvement in Web Vitals leading to increases in key business metrics like traffic to lead, bottom funnel conversions due to improved customer experience.
While GTmetrix has proven to be an extremely valuable tool for Finserv MARKETS, it can cater to individuals and businesses with varied needs.
Start your optimization journey with a FREE GTmetrix account and see how it can help you.
---
Are you using GTmetrix in your day-to-day? We'd love to hear how we've helped you on your journey to a faster website! Contact us if you have a story to share.